21 September – 24 November 2013

Doug Ashford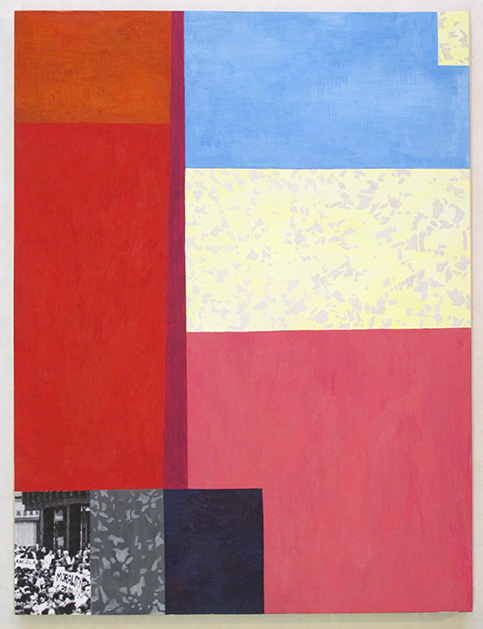 Doug Ashford
'Red Day 1966', 2010. #6, tempera on wood, 40 x 31 cm
Courtesy of the artist and Wilfried Lentz Rotterdam

Coming from a background of a socially engaged art practice in the 80's and 90's as part of the New York based art collective 'Group Material' (1982–1996), artist Doug Ashford (b. 1958, New York) took up painting in earnest after the collective ended. In the early public projects of Group Material, the art exhibition form itself was challenged for its social and participatory purposes, thereby contesting the terrain of political life. Ashford's current body of work focuses on the consoling role of the artwork itself by depicting foremost tragic events, as well as political ones, through schematic abstract paintings. The forms that manifest themselves in this working process start, for example, with newspaper clippings of political manifestations, often chosen for both their factual reportage and imagistic drift. The protagonists in these moments of strong social upheaval have an aesthetic stance while responding to an emergency; moving as if empathy has taken them into a momentum that overcomes catastrophe. Ashford abstracts the scenarios through cropping and colored schemas, each analyzing the event on a more metaphorical and formal level.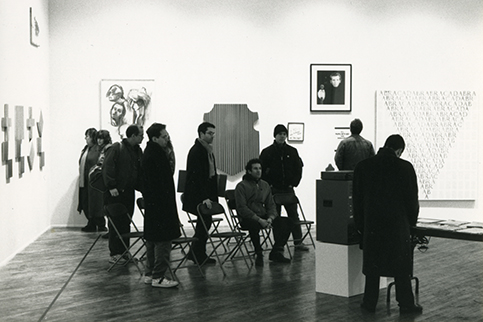 Group Material
'Democracy: AIDS and Democracy: A Case Study' (exhibition detail), 1988. Dia Art Foundation, NYC
Courtesy of the artists

The Grazer Kunstverein presents the first institutional solo show of Doug Ashford by exhibiting an overview of the artist's way of working and thinking, starting with the late 80's as of part of the collective 'Group Material' to more recent work, which is mostly embedded in painting.

Ashford is also known as scholar and writer and therefore the Grazer Kunstverein has produced, in collaboration with Mousse Publishing, a publication that is dedicated to a selection of his writings and conversations, which mostly analyze and discuss the collective and the social in art.

About the artist
Doug Ashford is a teacher, artist and writer. He is Associate Professor at The Cooper Union for the Advancement of Science and Art where he has taught design, sculpture, and theory for over twenty years and where his collaboratively taught Interdisciplinary Seminar was often a platform for public discussion. Ashford's principle art practice from 1982 to 1996 was as a member of the artists collaborative Group Material, whose internationally produced exhibitions, public projects and publications questioned the role of art in re-imagining democratic life. Since that time he has gone on to make paintings, write, and produce other cross-disciplinary projects. His most recent publication is Who Cares (Creative Time, 2006), a book project built from a series of conversations between Ashford and an assembly of other cultural practitioners on public expression, beauty, and ethics. Recent exhibitions of his work involving paintings include: Wilfried Lentz Gallery (2013), Documenta 13 (2012), Sharjah Biennial 10 (2011) and Abstract Possible, Malmö Konsthall, Museo Tamayo, Tensta Konsthall, and other locations (2010–11).


The Members Library*
'Trisha Brown: Early Works 1966–1979'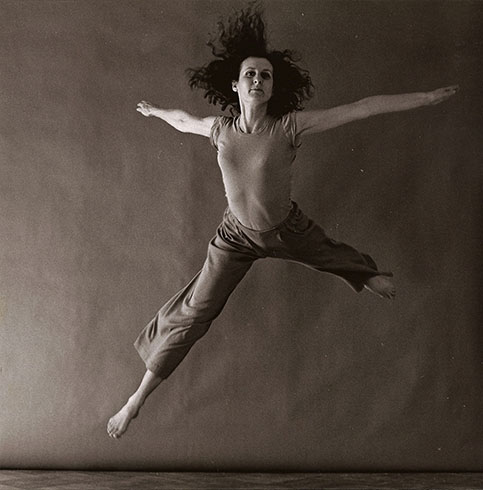 Trisha Brown
'Watermotor', 1978
Courtesy by Lois Greenfield

In 1962 Trisha Brown became one of the original members of the experimental Judson Church Dance Theater in New York, and in 1970 she co-founded The Grand Union. The dancers of these radical groups, such as Yvonne Rainer and Steve Paxton, embraced improvisation and the use of everyday movements not usually associated with legitimate choreography. To bring her dance into the real world of objects and unpredictable events, Brown performed much of her early work outdoors. By the late 1970s, Brown was looking for ways to expand and open up her dances. The desire to create large-scale, complex productions led her to incorporate stage design and music as simultaneous, independent elements in her work. Collaborating with such visual artists and musicians as Laurie Anderson, Robert Ashley, John Cage, Alvin Curran, Nancy Graves, Donald Judd, Fujiko Nakaya, Robert Rauschenberg, and, most recently, Terry Winters, she created visual and musical spectacles, or 'movement-images.'

Published and distributed by Artpix, Trisha Brown: Early Works 1966–1979 gives a full overview of all documentations made of works produced between 1966–1979, including the infamous performances executed on the streets of SoHo.

*The Members Library is constructed and designed by artist and architect by Céline Condorelli in collaboration with Harry Thaler as a permanent work entitled 'Things That Go Without Saying'. The structure she had built for The Members Library is part of a series entitled 'Additionals'. These different prop-like objects, quasi- functional structures, operate at a scale between furniture and architecture.


The Peacock
*New additions

Germaine Kruip*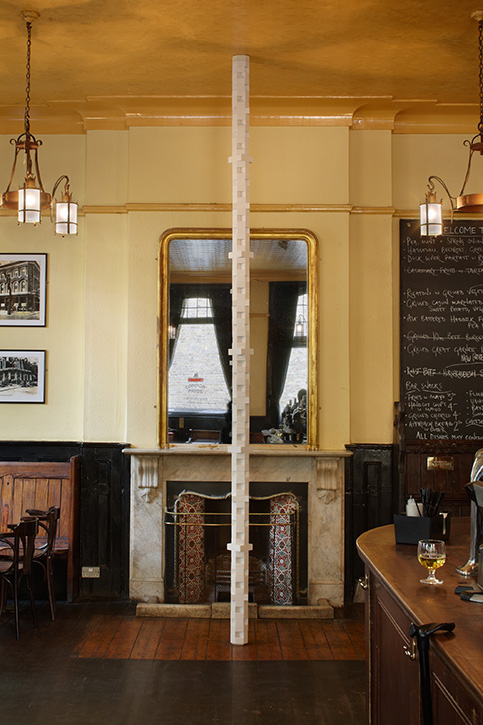 Germaine Kruip
'Column Untitled', 2012 (detail)
Courtesy by The approach

In Germaine Kruip's work the position of the spectator is often under scrutiny. The performance A possibility of an abstraction: Circle Dance is performed by a Derwisj dancer, also known as Whirling Dervish, who traditionally spins round and round in an ecstatic ritual, in an effort to connect to a higher universe. Kruip strips the performance down to its most minimal essence, so the viewer will focus on the bare movement of the dancer, dressed in a plain black suit and white shirt. Through this performance she investigates an idea that runs through her practice, the concept that a simple aesthetic repetitive intervention can change and affect its surroundings.

The performance is part of a new body of works titled 'A possibility of an abstraction' dealing with the abstract language attained by geometric forms in art. The formal language of simple geometric forms, such as circles or squares, have had many different meanings projected upon them. This language has been repeated throughout the course of art history, acquiring new and varying meanings over time. Kruip sees this repetition of a shape or a gesture as a ritualistic process.

For the Grazer Kunstverein, the artist had produced a new performance entitled A possibility of an abstraction: Square Dance, for which she had worked with Dervish dancers, who will try to copy Bruce Nauman's square dance.The new performance is co-produced with the Stedelijk Museum Amsterdam, which will be presented there at the beginning of next year. Alongside, Column Untitled (2012), is presented at the entrance of the Grazer Kunstverein. The white column is made out of large geometrical marble beads and is installed from floor to ceiling. The work emphasizes on the abstract relationship between different contexts.


Sarah Browne*

Sarah Browne's research-based practice investigates the materiality of how we communicate and create shared meaning through exchange and transaction. This work often implicitly addresses 'the economy' as the dominant metaphor for contemporary social and political relations, and attempts to locate, create and value alternative interactions within these existing systems.

At the Grazer Kunstverein, she presents Carpet for the Irish Pavilion at the Venice Biennale and Letter to Eileen Gray (2009) along with From Margin to Margin (Looking for Eileen) (2010), and a new work, Remembering Gray (2013).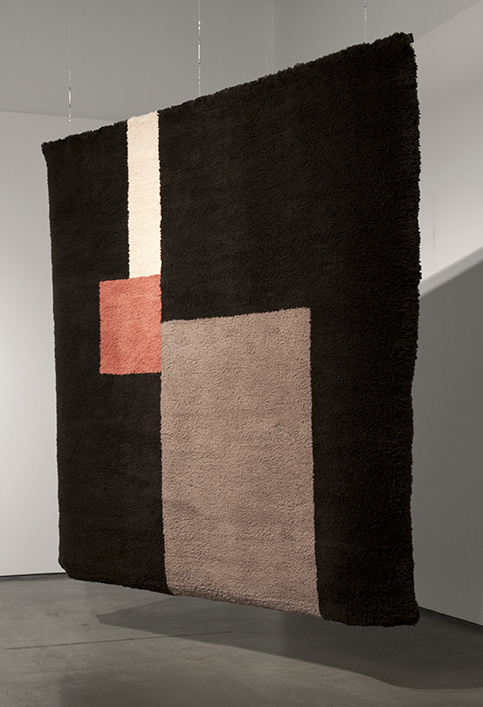 Sarah Browne
'Carpet for the Irish Pavilion at the Venice Biennale', 2009
Installation view at Contemporary Art Gallery, Vancouver, 2012. Photo by Scott Massey
Collection Kildare County Council

For the Ireland's representation at the Venice Biennale in 2009, Browne commissioned a bespoke hand-knotted carpet from Donegal Carpets, a company renowned for its prestigious tradition of producing hand-knotted rugs for Irish Embassies abroad, as well as for other state institutions such as The White House and Buckingham Palace. Far from its roots in the Arts and Crafts movement, the company survived until recently through machine production or outsourcing labour to the Philippines. For this project however, the artist initiated the revival of a somewhat anachronistic mode of production. Local woman who used to work at the factory (many of whom now work in the 'heritage centre' that has replaced it) were re-employed to make the carpet. While seeming to recall certain modernist designs (in this case that of Irish émigré Eileen Gray, who also had carpets made at the factory in the 1970s), the design and colour choice was actually dictated by the decision to work only from the surplus wool stocks remaining at the factory. A letter to Eileen Gray unpicks some of the concerns of the project, such as women's labour, the problems of 'national representation' and invisible feminisms.

From Margin to Margin (Looking for Eileen) is a 46-page artist book in a fanfold format, over 7.5 metres long when fully extended. Commissioned by the Daimler Collection to continue the artist's research into Eileen Gray and her legacy, the book makes transparent the commissioning process and the struggle to make an appropriate piece of artwork that respects all stakeholders in the project, including the commissioner and Gray herself. The book consists of a series of correspondences that include letters from the artist to Eileen, as well as various attempts to photograph Gray's villa, E1027 from the sea in front of it (where Le Corbusier drowned); to secure permission to make a film on the site under restoration; and finally an effort to use the commission budget to reinstate Gray's grave at Pére Lachaise, Paris—which failed, since she is no longer interred there and there is uncertainty about the location of her ashes. The proceeds from the sale of this book have been treated as a fund 'to be used in the service of the memory of Eileen Gray'.

For Remembering Gray, the artist completes her self-assigned contract by commissioning a poem from poet Alice Lyons. The poem exists in lieu of any formal eulogy or obituary for Gray, but also as a piece of Lyons' own work, with its own integrity. It is intended to have a performative potential and the capacity for multiple distributions and translations, initially into Morse code, a form of minimal communication that shares qualities of invisibility and secrecy resonant with Gray's practice. One transmission of this work is carried out through a temporary shortwave radio station in the Irish Museum of Modern Art (call signal EI2EEN) from October 2013 until April 2014. The version in the Grazer Kunstverein also intervenes in the built fabric of the institution, where the flickers of a tube light signal her memorial.


Nina Beier
Tragedy, 2011

A Persian rug situated at the entrance of the first gallery becomes a stage for a performance in which various dog owners visit the exhibition at unannounced times and ask their animals to "play dead" on the rug. The result is an absurd, theatrical gesture in which, for a moment, the pet serves as both a still life "gatekeeper" to the galleries. The carpet, however, will also serve different functions throughout its years at the Grazer Kunstverein, therefore questioning its own value and presence.


Will Stuart
'On the positioning of a replica of Michelangelo Pistoletto's Struttura per parlare in piedi (Structure for talking while standing), 1965–66, from the series 'Oggetti in meno' (Minus objects), reproduction', 2012

Positioned wherever negotiated, Will Stuart (Will Holder and Stuart Bailey) present a replica of Struttura per parlare in piedi (Structure for Talking While Standing) (1965–66), a work by Michelangelo Pistoletto (b. 1933, Italy) that belongs to his series of Minus Objects (Oggetti in meno).

The work will be accompanied by a public notice investigating the original intentions behind the work, and how subsequent negotiations with the various parties involved reflect its ambiguous doubling as furniture (for the public to lean on) and metaphor (for the politics of conversation). The object will become an ongoing subject of negotiation during the consideration of space and function within discursive programming.

Michelangelo Pistoletto's work was exhibited at the Grazer Kunstverein in 1988.


Robert Wilhite
'Small Black Chair', 1984

Robert Wilhite's (1946, Santa Ana, CA) practice is characterized by an ongoing battle between the serendipitous and the calculated, the conceptual and the tangible. His work moves freely between mediums and disciplines, from sculpture and performance to flatware design. In the late 1970s, Wilhite collaborated on four plays with French artist Guy de Cointet, producing props and a set design for the performance. The small black chair, fabricated by Wilhite in 1984, will continuously be reproduced when needed within the Grazer Kunstverein's program


Co-production steirischer herbst

The Mondriaan Fund and Cultural Ireland generously support the work by Germaine Kruip and Sarah Browne.