7 December 2013 – 23 February 2014

Josef Bauer
'Works 1965–Today'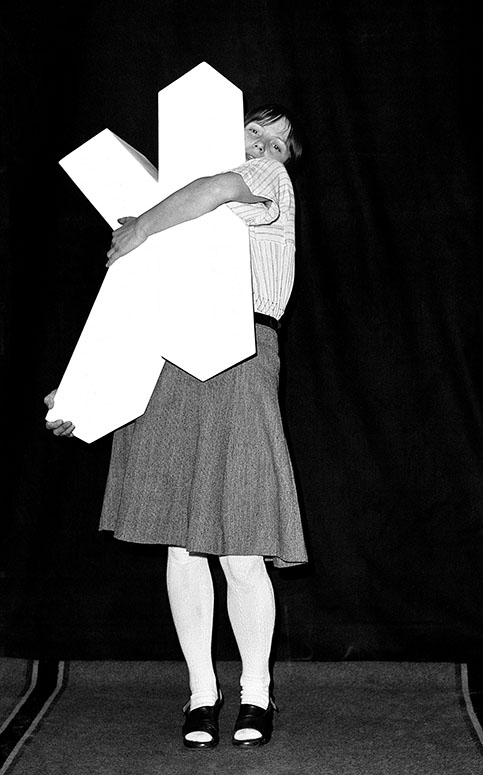 Josef Bauer
'Körpergalerie', 1974, (photo, 15,3 x 24 cm)
Courtesy the artist

Josef Bauer's (b. 1934, Wels, Austria) practice finds itself somewhere between concrete poetry, performance and painting, in which the physical relationship towards linguistic production and display is explored. Unlike the concrete poets of his generation, Bauer examines the tangible landscape and spaces in which language and its representation towards the body are unified. These often-sculptural interventions and installations resemble a rebus-like structure, in which 'scale' and 'trace' play important roles. His interest in the relationship of the human body and its interaction to align with a sculptural object has been scrutinized by several of his peers such as Franz West, but Bauer introduced semiotics to underline the linguistic potential of these objects. His direct setting became his key to understand and relate to the world around him. This physical understanding he titled 'Tactile Poetry', which quite literally means 'poetry-to-touch' or 'touched poetry'. In the mid-60's, he abandoned 'the paper' to visually express his interest in language through three-dimensional, set-like installations that incorporate painterly and performative landscapes. These sceneries and actions often include letters as sculptures to underline the scale in which subjects transform into objects. His 'Buchstaben', for example, consists out of metal poles, each holding a letter, and resembles blown-up page holders while also reminding us of props often used at demonstrations. The images that depict the struggle of the artists holding up the structures to form words, is a perfect example of his attempt to physically communicate with his surroundings. Bauer's work is more concrete than any other concrete poet, while simultaneously embracing the possible autonomy of its shapes thereby introducing a certain suggestive cryptography.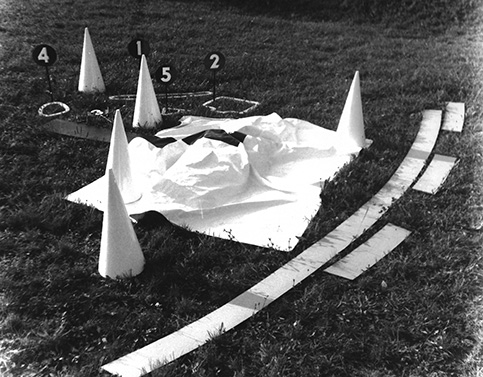 Josef Bauer
'Tatort', 1966, (photo, 30 x 23,5 cm)
Courtesy the artist

The perception and apprehension of color became an increasing fascination to emphasize the exploration between language and context. Almost dyslexic, the words and colors don't form a unity but provoke the perception of the object itself – color as language or vice versa. The 'carriers' of these words and colors are just as important as they incorporate the essence of concrete reality.

The unique and pioneering position the work of Josef Bauer holds, is one with earnest sensibility in a world of mass consumption and fast communication.

Bauer's last solo exhibition in Graz dates back to 1974 at the Neue Galerie and now, 40 years later, the Grazer Kunstverein is proud to present his first survey in Austria and abroad with more than 30 works that span over 40 years of production – from the early experiments with abstract shapes to more recent investigations with language and color.

Josef Bauer is born in 1934 in Wels, Austria and studied at the University of Art and Design in Linz from 1956–1964. Ever since, he has exhibited in Austria and abroad. He lives and works in Gunskirchen and Linz, Austria.


The Members Library*

Guy de Cointet - Publications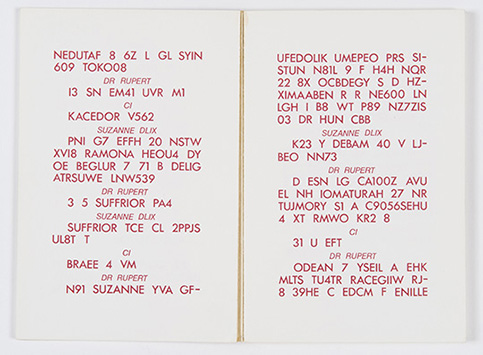 Guy de Cointet
'TSNX C24VA7ME', 1974
Courtesy The Estate of Guy de Cointet/ Air de Paris, Paris.

Guy de Cointet (1934–1983) was an artist who lived in Los Angeles most of his life, where he developed a polymorphic corpus of works. His practice could be described as 'theatre in an expanded field'. Guy de Cointet has written more than twenty plays, half of which were staged during his lifetime. As a Frenchman in the U.S.A. and a perfect observer of the society of entertainment with its soap operas and body building, he created a body of work that investigates the borders between high and low, performance and sculpture, theatre and everyday life. Publications were one way for de Cointet to express his interest in cryptography with which, just like with his drawings and plays, he created impenetrable puzzles of letters and numbers. The publications presented perfectly illustrate his love of interpretation and decoding. The artist's use of enigmatic systems points both to a Minimalist aesthetic and to a Structuralist play with linguistics.

*The Members Library is constructed and designed by artist and architect Céline Condorelli in collaboration with Harry Thaler as a permanent work entitled 'Things That Go Without Saying'. The structure she had built for The Members Library is part of a series entitled 'Additionals'. These different prop-like objects and quasi-functional structures, operate at a scale between furniture and architecture.



The Peacock
*New addition

Franz West*
'Pouf', 2000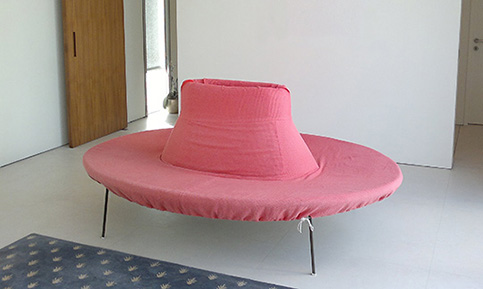 Franz West
'Pouf', 2000
Steel, wood, foam, cotton cover, 80 x 220 x 150 cm
Courtesy Collection Stolitzka

Austrian artist Franz West's (1947–2012) work began as a reaction to the Actionism and Performance Art of the 1960s. Instead of making objects to be viewed, he created sculptures to be touched. His 'adaptives' were sculptures meant to be carried around the gallery, so that viewers could observe how they 'adapted' to their bodies. West's furniture, like his sculptures, holds an awkward and sometimes grotesque appearance, while it simultaneously surprises with elegant and beautiful features. The Grazer Kunstverein presents one of his infamous 'Poufs' dated from 2000. The word 'pouf' is onomatopoeic – if you sit down heavily on the 'Pouf', it may make a noise like the word. Though the 'Pouf' is obviously a seat, its shape also suggests the puffed-up hair-dos worn by 18th century ladies of fashion. The hair-do not only involved a great deal of effort but also produced a kind of sculptural headgear.

On the 'Pouf', a copy of the novel 'Das Sofa' by C.P.J. de Crébillon is layed out. The story concerns a young courtier, Amanzéï, whose soul in a previous life was condemned by Brahma to inhabit a series of sofas, and not to be reincarnated in a human body until two virgin lovers had consummated their passion on him. Each Sunday, a section from the novel will be read in silence by one of the members of the staff of the Grazer Kunstverein.


Nina Beier
'Tragedy', 2011

A Persian rug situated at the entrance of the first gallery becomes a stage for a performance in which various dog owners visit the exhibition at unannounced times and ask their animals to 'play dead' on the rug. The result is an absurd, theatrical gesture in which, for a moment, the pet serves as both still life and 'gatekeeper' to the galleries. The carpet, however, will also serve different functions throughout its years at the Grazer Kunstverein, therefore questioning its own value and presence.


Will Stuart
'On the positioning of a replica of Michelangelo Pistoletto's Struttura per parlare in piedi (Structure for talking while standing), 1965–66 from the series 'Oggetti in meno' (Minus objects), reproduction', 2012

Positioned wherever negotiated, Will Stuart (Will Holder and Stuart Bailey) present a replica of 'Struttura per parlare in piedi', a work by Michelangelo Pistoletto (b. 1933, Italy) that belongs to his series of 'Minus Objects'. The work is accompanied by a public notice investigating the original intentions behind the work, and how subsequent negotiations with the various parties involved reflect its ambiguous doubling as furniture (for the public to lean on) and metaphor (for the politics of conversation). The object will become an ongoing source of friction during the consideration of space and function within discursive programming.

Michelangelo Pistoletto's work was exhibited at the Grazer Kunstverein in 1988.


Robert Wilhite
'Small Black Chair', 1984

Robert Wilhite's (b. 1946, Santa Ana, CA) practice is characterized by an ongoing battle between the serendipitous and the calculated, the conceptual and the tangible. His work moves freely between mediums and disciplines, from sculpture and performance to flatware design. In the late 1970s, Wilhite collaborated on four plays with French artist Guy de Cointet, producing props and a set design for the performance. 'Small Black Chair' is a reproduction of one of these props and will continuously be reproduced when needed within the Grazer Kunstverein's program.


'Josef Bauer: Works 1965–Today' is generously supported by the province of Upper Austria.