8 June – 11 August 2013

TRADITION
A selection from the Center for Social Research on Old Textiles (CSROT) with works by Willem Oorebeek, Lucy Skaer and Christopher Williams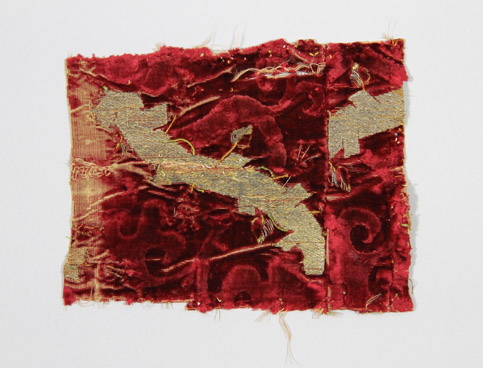 Silk red velvet with embroidery (fragment), Italy, 15th century,
16 x 20 cm, silk, metal thread.
Courtesy of Center for Social Research on Old Textiles

The Grazer Kunstverein continues its exploration within the realms of social abstraction, by presenting a selection of the elaborate collection of historic textiles assembled by Seth Siegelaub (b. 1941, The Bronx) for the Center for Social Research on Old Textiles. Currently comprising of around 650 pieces, the collection includes woven and printed textiles, embroideries and costume, ranging from fifth-century Coptic to Pre-Columbian Peruvian textiles, late medieval Asian and Islamic textiles, and Renaissance to eighteenth-century European silks and velvets. At the Grazer Kunstverein, a selection of 50 items will be shown alongside art works. The exhibition follows The Stuff That Matters at Raven Row (London) in 2012, which marked the collection's first public presentation.

After running his own gallery in New York from 1964 to 1966, Seth Siegelaub played a pivotal role in the emergence of what became known as Conceptual Art, which resulted in a series of 21 art exhibitions in groundbreaking formats he organized between 1968 and 1971. In 1972 he turned away from art and moved to Paris, where he published and collected leftist books on communication and culture, and founded the International Mass Media Research Center. In the early eighties he began collecting textiles and books about textiles, and in 1986 founded the Center for Social Research on Old Textiles, which conducts research on the social history of hand-woven textiles. In 1997 he edited and published the Bibliographica Textilia Historiae, the first general bibliography on the history of textiles, which has since grown online to over 9,000 entries.

The intimate relationship between textiles and society can be seen, as Siegelaub explains, in the fundamental role textile played in the rise of the capitalist system and the industrial revolution. While the form and aesthetics of textiles in general are determined by the way they are manufactured, the selection of items in the exhibition at the Grazer Kunstverein specifically are based on the abstraction of forms in relation to function. Amongst the items on display will be Barkcloth (tapa) and headdresses from the Pacific region (especially Papua New Guinea) and Africa.

The textiles in the exhibition will be shown alongside the works of three artists, Willem Oorebeek, Lucy Skaer and Christopher Williams, whose conceptual work reflects on notions of craftsmanship, industrial (re)production, modernity, appropriation and representation.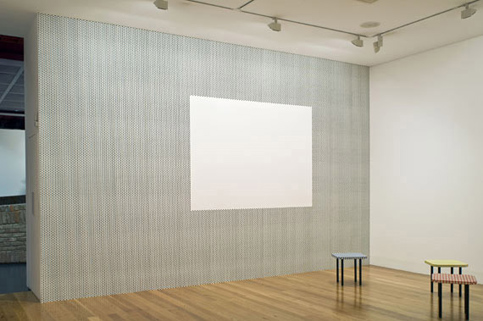 Willem Oorebeek
'Dot-Screen-Wall', 2011
Generali Foundation Collection, Vienna

The work of Willem Oorebeek (b. 1953, Rotterdam, NL) evolves around the status of the image, its reproduction and circulation. Employing graphical print techniques he reworks images selected from the mass media to de-contextualize their meaning. Oorebeek's dot-screen-wall (2008), for example, renders a blow-up of the dot as the primary element of mechanical printing. Following the logic of photographic enlargement, these dots are arranged as a wallpaper pattern to frame a blank cinema screen, subjecting cinematic experience to the language of interior decoration.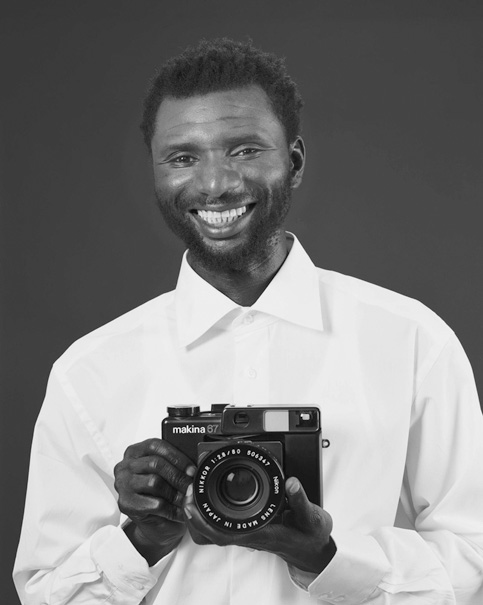 Christopher Williams
'Mustafa Kinte (Gambia) / Camera: Makina 67 506347, Plaubel
Feinmechanik und Optik GmbH, Borisgallee 37, 60388 Frankfurt
am Main, Germany / Shirt: Van Laak Shirt Kent 64, 41061
Mönchengladbach, Germany / Photography by the Dirk Schaper
Studio, Berlin, July 20th, 2007', 2008
Courtesy of the artist and Galerie Gisela Capitain, Cologne

A further investigation into the destruction of the medium of photography and in particular its structures of representation and classification in regards to industrial culture, can be found in the work of Christopher Williams (b. 1957, Los Angeles, US). Using the process of reproduction as a point of entry, the artist manipulates the conventions of advertising, the superficiality of surface, and ultimately the history of Modernism. Deeply political, historical, and sometimes personal, the photographs are meant to evoke a subtle shift in our perception by questioning the communication mechanisms and aesthetic conventions that influence our understanding of reality.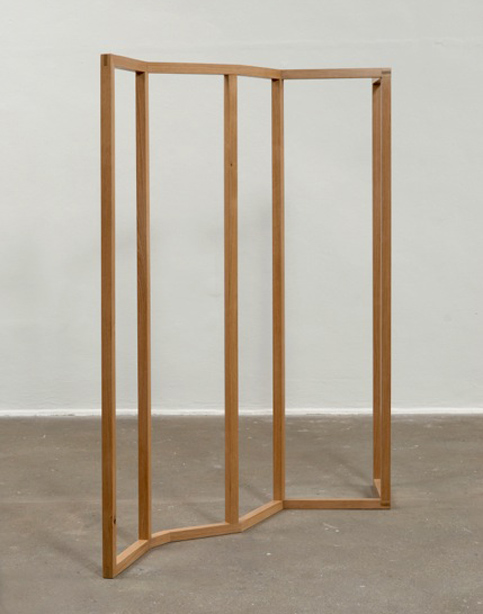 Lucy Skaer
'Screen from a Landscape (The Siege)', 2009
Courtesy of the artist and Tulips & Roses

Lucy Skaer (b. 1975, Cambridge, UK) continues the scrutiny of representation and classification by exploring the abstraction created by high capitalism: the tension between objects, their "exchange value" or associated image on the one hand, and their direct material nature, denuded of their context and meaning on the other. Her films, installations and sculptures present a push and pull between representation and the still recognizable meaning and physical shape of the original subject matter.

By juxtaposing these artistic positions with the collection, the textile items will, along with their social and political historical references, renegotiate their aesthetical and formal qualities. The analogy drawn between the items of the collection and the artists' works will further provoke thoughts on "abstraction", "surface", "materiality" and "classification" in relation to both functionality and autonomy.

An essay by artist and writer Doug Ashford is published for the occasion.

Curators: Krist Gruijthuijsen, director Grazer Kunstverein, and Maxine Kopsa, director Kunstverein, Amsterdam

Tradition is the result of a collaboration between Marres, Centre for Contemporary Culture, Maastricht, Kunstverein, Amsterdam and Grazer Kunstverein, Graz, Austria


The Members Library*

A selection of publications produced by collector, researcher and curator Seth Siegelaub.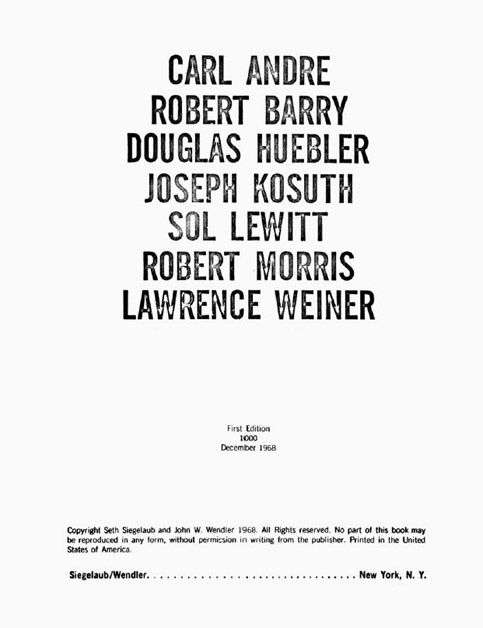 A page from 'Carl Andre, Robert Barry, Douglas Huebler,
Joseph Kosuth, Sol LeWitt, Robert Morris, Lawrence Weiner,'
also known as the 'Xerox Book,' edited by Seth Siegelaub,
Dec. 1968.

Seth Siegelaub was a seminal figure in the Conceptual art movement of the 1960s and 1970s. Siegelaub organized twenty-one exhibitions, publications and projects in North America and Europe between February 1968 and July 1971, working closely with artists such as Carl Andre, Robert Barry, Douglas Huebler, Joseph Kosuth, and Lawrence Weiner in a wide range of innovative formats, before largely withdrawing from the art world in 1972. His curatorial work took place both in physical spaces and, most significantly, in the form of books, in which he re-defined the exhibition catalogue itself as the exhibition. Siegelaub's approach mirrored the Conceptual art movement by raising important questions about the making, display, ownership, distribution and selling of works of art. Alongside a selection of these publications, a collection of books on textiles also produced by Siegelaub will be presented.

*The Members Library is constructed and designed by artist Céline Condorelli in collaboration with Harry Thaler as a permanent work entitled Things That Go Without Saying. The structure she had built for The Members Library is part of a series entitled Additionals. These different prop-like objects, quasi- functional structures, operate at a scale between furniture and architecture.


The Peacock
*New additions

Eva Berendes*
Untitled (Osaka), 2011

Eva Berendes' practice draws on the history and language of abstract painting in conjunction with the application of craft and applied arts. Her works frequently refer to decorative objects usually associated with domestic settings such as curtains, screens, throws and wall hangings. Dominant surfaces are exposed through a subtle process of concealment and disclosure. At the Grazer Kunstverein, Berendes presents a newly commissioned work that simultaneously suggests both simplicity and complexity by highlighting the contradictions, tensions and ultimate validity between functionality, decoration and autonomy.


Josh Faught*
Five O'clock Shadow, 2009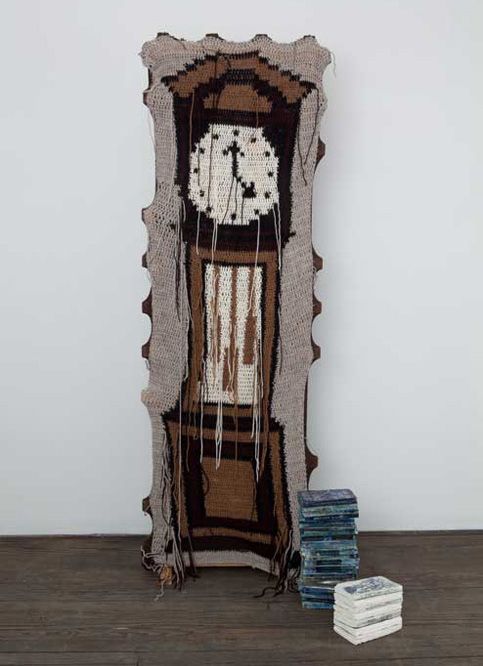 Josh Faught
'Five O'clock Shadow', 2009
Courtsey Lisa Cooley

Reveling in the suburban panic punctuated by a hysterical self-help culture, compulsion toward decoration, and docudramatic tragedy, Josh Faught's work uses elements of textiles, collage, sculpture and painting to triangulate between a space that negotiates the history of textiles, a social/political history, and personal history. These mythologized reconfigurations respond to ongoing interests surrounding possibilities in narrative between object, ornamentation, sexual difference, desire and the site of domestic dysfunction.


Nina Beier
Tragedy, 2011

A Persian rug situated at the entrance of the first gallery becomes a stage for a performance in which various dog owners visit the exhibition at unannounced times and ask their animals to "play dead" on the rug. The result is an absurd, theatrical gesture in which, for a moment, the pet serves as both a still life "gatekeeper" to the galleries.


Will Stuart
On the positioning of a replica of Michelangelo Pistoletto's Struttura per parlare in piedi (Structure for talking while standing), 1965–66, from the series Oggetti in meno (Minus objects), reproduction, 2012

Positioned wherever negotiated, Will Stuart (Will Holder and Stuart Bailey) present a replica of Struttura per parlare in piedi (Structure for Talking While Standing) (1965–66), a work by Michelangelo Pistoletto (b. 1933, Italy) that belongs to his series of Minus Objects (Oggetti in meno).

The work will be accompanied by a public notice investigating the original intentions behind the work, and how subsequent negotiations with the various parties involved reflect its ambiguous doubling as furniture (for the public to lean on) and metaphor (for the politics of conversation). The object will become an ongoing subject of negotiation during the consideration of space and function within discursive programming.

Michelangelo Pistoletto's work was exhibited at the Grazer Kunstverein in 1988.


The exhibition Tradition is generously supported by the Mondriaan Fund and the Royal Dutch Embassy in Austria.