9 March – 19 May 2013

Mierle Laderman Ukeles
'Maintenance Art Works 1969–1980'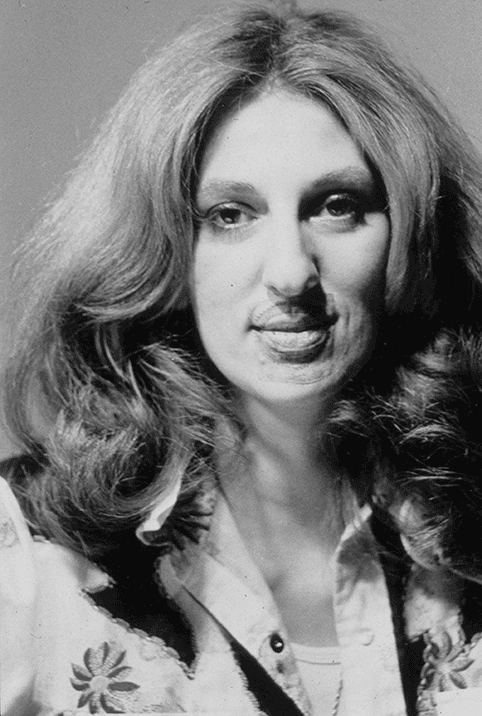 Mierle Laderman Ukeles
'Maintenance Art Work', 1977
Courtesy Ronald Feldman Fine Arts, New York

The Grazer Kunstverein is proud to present the very first comprehensive, European solo exhibition of the artist's earlier work. Organized in 1998 by Ronald Feldman Fine Arts gallery in New York, the exhibition presents a body of work spanning over a decade of significant production.

The work of Mierle Laderman Ukeles (born 1939, Denver, CO) concerns the everyday routines of life. In 1969, following the birth of her first child, Ukeles wrote "Manifesto for Maintenance Art" as a challenge to the binary systems of opposition that draw the line between art/life, nature/culture, and public/private. The manifesto proposed undoing boundaries that separate the maintenance of everyday life from the role of an artist in society. Ukeles was interested in how artists could use the concept of transference to empower people to act as agents of change and stimulate positive community involvement toward ecological sustainability. In the 1960s, Ukeles completed an undergraduate degree in history and international studies at Barnard and studied visual arts at Pratt Institute in New York. Ukeles' work at this time was experimental, and visually and symbolically conveyed the social unrest surrounding events such as the women's movement and the Vietnam War.

Ukeles became increasingly disturbed by the separation of the artist in society from everyday activities such as childcare, household work, and other routine labor practices that she felt should be reinterpreted within the contexts of personal and political aesthetic values. Ukeles has stated that "Avant-garde art, which claims utter development, is infected by strains of maintenance ideas, maintenance activities, and maintenance materials…"

'I am an artist. I am a woman. I am a wife. I am a mother. (Random order) I do a hell of a lot of washing, cleaning, cooking, renewing, supporting, preserving, etc. Also, (up to now separately) I 'do' Art. Now I will simply do these everyday things, and flush them up to consciousness, exhibit them, as Art.' (Ukeles, 1969)

The exhibition will be accompanied by Ukeles' very first publication focusing on her "Ballet Works" produced between 1983 and 2012. It is produced by Kunstverein, Amsterdam in collaboration with the Grazer Kunstverein, and is published by Sternberg Press with the support of Ronald Feldman Fine Arts and the Graham Foundation for Advanced Studies in the Fine Arts.


The Members Library
'Raivo Puusemp – Dissolution'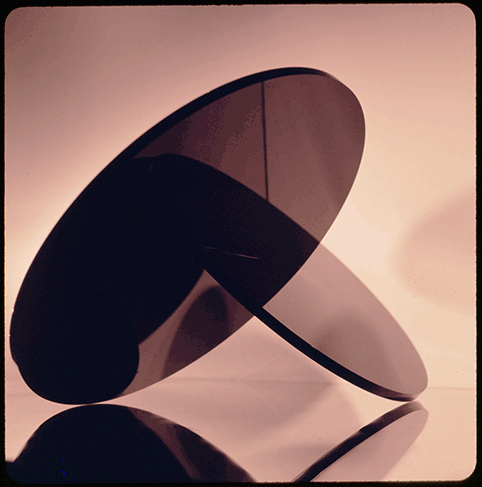 Raivo Puusemp
'Intersecting Discs #1', 1966
Courtesy the artist

The first presentation in the library series is dedicated to the work of Raivo Puusemp (b. 1942, EE/US) and the reprint of his publication 'Beyond Art – Dissolution of Rosendale, N.Y.' from 1980.

When artist Raivo Puusemp was voted mayor of Rosendale, New York in 1975, the village was plagued by an overbearing tax structure and problems with municipal utilities. Following his election and throughout his tenure, Rosendale's residents were unaware of Puusemp's practice as a conceptual artist, his early interest in phenomenology, and his later experiments with group dynamics and socio-political processes. Puusemp's approach to the post was, however, an artistic one. He believed in the compatible co-existence of politics, influence and concept. Employing conceptual strategies to tackle the village's issues, Puusemp viewed the situation as an artwork in the form of a political problem. He drew upon previous works – called 'influence pieces' – in which the artist would steer subjects into unconsciously executing his ideas.

By March of 1976, Puusemp had persuaded the people of Rosendale (by a landslide 2:1 vote) that the dissolution of the village government would be the best possible solution to their problems. By October of that same year, Puusemp resigned as mayor, withdrew himself from the art context and moved his family to Utah. Rosendale, A Public Work was an attempt to superimpose a formal idea on an essentially directionless, political microsystem and, in doing so, have a permanent effect on that system. Documentation of the process, including a series of official letters, papers and press clippings, was compiled and later published by the artist in his booklet Beyond Art – Dissolution of Rosendale, N.Y. Prints of the original publication have been reproduced to accompany the exhibition.

'Raivo Puusemp – Dissolution' is the first comprehensive overview of the Estonian artist's work produced between the mid-1960s and late 1970s, before his creative dissolution. Presenting materials and documentation surrounding his remarkable final project Rosendale, A Public Work, the exhibition also draws upon his earlier work concerning his observations of the natural and social world and the construction of phenomenological objects.

These are presented with related works by artist Ben Kinmont (b. 1963, US), which negotiate the notion of withdrawal and artistic contextualization.

'Raivo Puusemp – Dissolution' is co-produced by Project Arts Centre, Dublin, Grazer Kunstverein, Graz, Austria, and the Utah Museum of Contemporary Art, Salt Lake City, USA. Following its presentation at Project Arts Centre (November 9, 2012 – January 12, 2013) and the Grazer Kunstverein (March 8 – May 19, 2013), it will travel to Utah Museum of Contemporary Art (June 7 – July 27, 2013)



The Peacock

Nina Beier
'Tragedy', 2011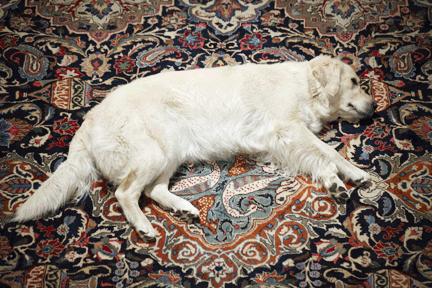 Nina Beier, 'Tragedy', 2011
Courtesy Laura Bartlett Gallery, London

A Persian rug situated at the entrance of the first gallery becomes a stage for a performance in which various dog owners visit the exhibition at unannounced times and ask their animals to 'play dead' on the rug. The result is an absurd, theatrical gesture in which, for a moment, the pet serves as both a still life 'gatekeeper' to the galleries.


Will Stuart
,On the positioning of a replica of Michelangelo Pistoletto's Struttura per parlare in piedi (Structure for talking while standing), 1965-66 from the series Oggetti in meno (Minus objects), reproduction', 2012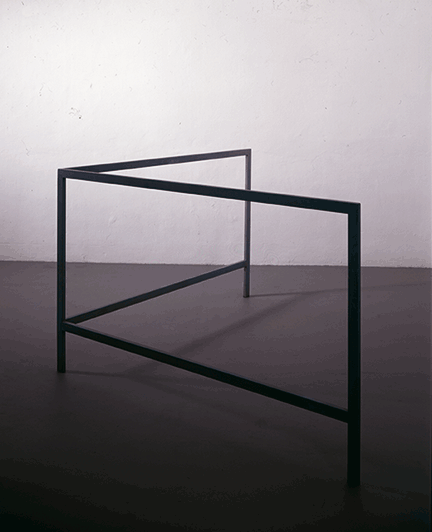 Michelangelo Pistoletto
'Struttura per parlare in piedi' (Structure for talking while standing), 1965–66
Courtesy the artist

Positioned wherever negotiated, Will Stuart (Will Holder and Stuart Bailey) present a replica of Struttura per parlare in piedi (Structure for Talking While Standing) (1965–66), a work by Michelangelo Pistoletto (b. 1933, Italy) that belongs to his series of Minus Objects (Oggetti in meno). The work will be accompanied by a public notice investigating the original intentions behind the work, and how subsequent negotiations with the various parties involved reflect its ambiguous doubling as furniture (for the public to lean on) and metaphor (for the politics of conversation). The object will become an ongoing subject of negotiation during the consideration of space and function within discursive programming.

Michelangelo Pistoletto's work was exhibited at the Grazer Kunstverein in 1988.


Dexter Sinister
'Tinctures', 2010

Dexter Sinister is a designer-editor-publisher duo established in 2006 by Stuart Bailey and David Reinfurt. Their activities, which include a workshop and bookstore in New York, explore the possibilities of publishing in both printed and digital form – often in relation to art production. Many of their projects are site-specific and time-sensitive, including publications and events produced live in galleries over set periods of time. In 2011, they produced carpet tiles based on 'tinctures'.

Tinctures are the colors used to emblazon a Coat of Arms in heraldry. Specific designs often had to be communicated using black-and-white drawing alone. In the absence of true color representation, a coded system of line hatching was developed that could easily distinguish one tincture from another. Each tincture has a proper, corresponding heraldic name. The titles produced by Dexter Sinister are spread throughout the galleries.


Robert Wilhite
'Small Black Chair', 1984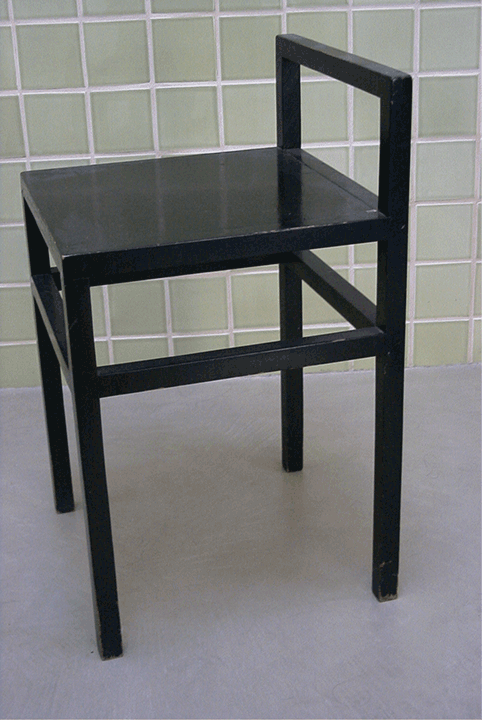 Robert Wilhite, 'small black chair', 1980
Courtesy the artist

Robert Wilhite's (b. 1946, Santa Ana, CA) practice is characterized by an ongoing battle between the serendipitous and the calculated, the conceptual and the tangible. His work moves freely between mediums and disciplines, from sculpture and performance to flatware design. In the late 1970s, Wilhite collaborated on four plays with French artist Guy de Cointet, producing props and a set design for the performance. The small, black chair is a reproduction of one of these props.

In 1997 Wilhite produced a series of chairs for artist Mierle Laderman Ukeles as part of her installation 'Unburning Freedom Hall' at Museum of Contemporary Art, Los Angeles, CA.


The work of Nina Beier is supported by the Royal Danish Embassy.