7 March – 23 May 2015

David Wojnarowicz & Robert Blanchon

'Feeling animalistic. Feeling Hyena.
Feeling Wolf. Feeling Dog. I am tongue and heart.'
(David Wojnarowicz)

The Grazer Kunstverein continues to question the concept of social abstraction by presenting work by two exceptional American artists who have both gained cult status in the United States. Each of their practices investigates and translates the personal and physical relationship towards their surroundings.

The works of David Wojnarowicz and Robert Blanchon reflect upon the United States in the 1980s and throughout the 90s, when gay and queer politics were severely suppressed and questioned during the rise of the HIV/AIDS virus. The poetic but often direct approach of these two AIDS activists represents a period that currently seems to gain more prominence due to the neo-liberal ideologies that are forced upon our perception of society.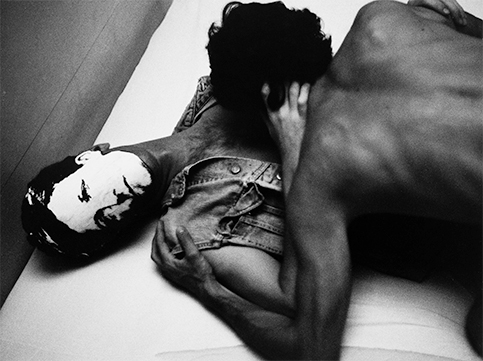 David Wojnarowicz
'Arthur Rimbaud in New York', 1978–79

From a series of twenty-four gelatin-silver prints

8 x 10 inches, each

Courtesy of the Estate of David Wojnarowicz and P.P.O.W Gallery, New York

David Wojnarowicz (1954–1992) was a painter, photographer, writer, filmmaker, performance artist, and activist who was prominent in the New York City art world of the 1980s. Many of Wojnarowicz' works incorporate outsider experiences drawn from his personal history. By the late 1970s he had, in his own words, 'started developing ideas of making and preserving an authentic version of history in the form of images/writings/objects that would contest state-supported forms of "history."'

A member of the first wave of East Village artists, Wojnarowicz began showing his work during the early 1980s in such now-legendary spaces as Civilian Warfare, Club 57, Gracie Mansion, Fashion Moda, and the Limbo Lounge. He gained prominence through his inclusion in the 1985 Whitney Biennial, and was soon showing in numerous museum and gallery exhibitions throughout the United States, Europe, and Latin America. In the late 1980s, after he was diagnosed with AIDS, Wojnarowicz' art took on a sharply political edge, and soon he was entangled in highly public debates about medical research and funding, morality and censorship in the arts, and the legal rights of artists.

Wojnarowicz' urban experience in New York, from his childhood hustling in Times Square to his adult life wandering among the abandoned warehouses on the Hudson River piers, counters the notion of the urban as the be-all and end-all of queer community and style. According to American theoretician Kath Weston, the urban is constructed in opposition to the rural as a place of violence and threats for queer or gay subjects. As she states, 'From the start, then, the gay imaginary is spatialized, just as the nation is territorialized. The result is a sexual geography in which the city represents a beacon of tolerance and gay community, the country a locus of persecution and gay absence.'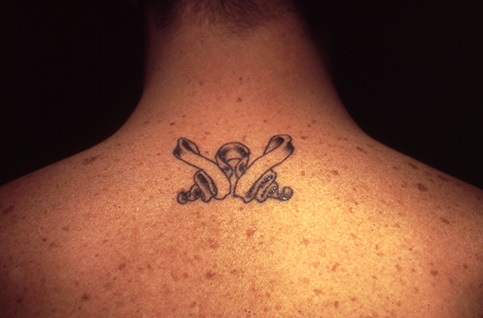 Robert Blanchon
'Self-Portrait with Tattoo', 1993
Cibachrome print, 28 x 35 cm
Courtesy The Estate of Robert Blanchon

Robert Blanchon (1965–1999) was an American artist born in Foxboro, Massachusetts. His conceptual artworks often dealt with histories of American Conceptual Art, the politics of AIDS, and representations of queer sexuality. Blanchon attended the School of the Art Institute of Chicago from 1984 to 1989, earning both a BFA and a MFA. While in Chicago, Blanchon was an active participant in the non-profit art scene, curating exhibitions at N.A.M.E. gallery, contributing to Tony Tasset, et al.'s artist project Anonymous Museum, and designing a poster for the City of Chicago's billboard campaign Art Against AIDS: On the Road.

From 1989 to 1994, Blanchon lived in New York City and worked in the communications department of the New Museum of Contemporary Art while producing his photographic, sculptural, performance, and video artworks. He had a studio on Canal Street where he completed many of his early photographic series, including the stains, tattoos, and greeting cards series. Also during this period, Blanchon created two of his best known and most exhibited artworks, 'Untitled (self-portrait)' (1991), a series of fourteen self-portraits commissioned by street artists, and 'Protection' (1992), a letter from the artist to his mother telling her he was HIV-positive, juxtaposed with her twelve-page response.

Blanchon had solo exhibitions in New York City at Artists Space in 1994 and at White Columns in 1995. In 1995, he moved to California to take a position as an artist-in-residence at the University of California, Irvine. While in California, he produced the video 'let's just kiss + say goodbye' (1995), which was exhibited in national and international film festivals, and he had two solo shows, at the Los Angeles Center for Photographic Studies in 1996 and at Marc Foxx Gallery in the following year.

In the spring of 1998, Blanchon moved back to Chicago to become an artist-in-residence at the School of the Art Institute of Chicago, and in the fall of the same year, he took another artist-in-residence position at the University of North Carolina at Chapel Hill. By the end of the summer Blanchon was hospitalized due to complications related to AIDS, and on October 3, 1999, he died at the of age 33.

Developed in close collaboration with the NYU Fales Library, New York, this unique exhibition concentrates on the photography, videos, and films produced by the artists during their practice.


The Members Library* presents

Alexander Apóstol, Heman Chong, Jasper Coppes, Agnieszka Kurant

For the first time, The Members Library brings together works from several artists. Partially commissioned, partially existing, the works share an interest in distribution by trading upon what is considered to be "fiction."

Alexander Apóstol
'Avenida Libertador', 2006

In 'Avenida Libertador', Alexander Apóstol's (b. 1969, Venezuela) gritty black and white video, transsexuals flirt and introduce themselves to the camera as well-known 
Venezuelan artists ('I am Jesus Soto', 'I am Cruz Diez', 'I am Gego') while standing in the Liberator Avenue, Caracas. Built during the 1950s, the mega-avenue was an emblem of the dream of progress that swept the nation. Now in an increasingly ideologically polarized country, the Avenida Libertador is the frontier that not only divides the East and West of the city, but also separates two politically opposed municipalities. As a way to mark their territory each municipality has appropriated opposite walls of the avenue and decorated them with murals representing two divergent artistic traditions: The landscape tradition of the turn of 1900s and the constructivist movement (which came to its height during the 1970s). In the video, the transsexuals that inhabit the avenue take over the roles of the official visual artists of each faction, parodying the use of art by the Estate as political propaganda.


Heman Chong
'Monument to the people we've conveniently forgotten (I hate you)', 2008

This sculptural installation by Heman Chong (b. 1977, Malaysia) centers on a single common object – a business card – multiplied one millionfold. Sized 9 x 5.5 cm, and consisting of a double-sided, solid black offset print on 260 gsm paper, the business cards swarm and cover a given gallery floor as an understated, underfoot monument. In this installation, blackness is barely recognized as a color; rather, it is black as defined by a million separate objects. Spread over the ground in layered piles to form an unbearable tactility and slippery instability, the business cards bring to mind notions of failed promises and the fruitless intimacy of personal relations.


Jasper Coppes
'Enclosure', 2015

With subtle, sometimes hidden, interventions in our reality Jasper Coppes (b. 1983, Netherlands) explores the way we relate to objects and spaces. In doing so he simulates cultural heritage or lets architectural constructions merge into chosen environments. Coppes works with the assumption that when our usual forms of knowledge decline, it becomes possible to restore a movement towards the uncertainty of the present. Because thanks to our ability to forget the commonplace we have the opportunity to experience the presence of that which is not, is no longer, or is not yet.

For the Grazer Kunstverein, Coppes 'weaved' a story into three publications (Peter Handke's 'Die Wiederholung', Oscar Wilde's 'The Importance of Being Earnest', and Alberto Manguel/Gianni Guadalupi's 'The Dictionary of Imaginary Places') that were proposed by the members for the Members Library. Coppes therefore creates a sudden break into a narrative, bringing the reader into a confused state of being.


Agnieszka Kurant
'The Phantom Library', 2011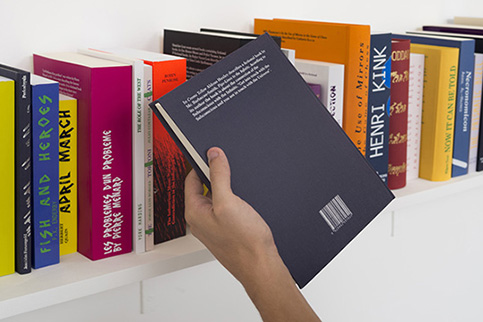 Agnieszka Kurant
'The Phantom Library', 2011
152 books, various dimensions
Courtesy the artist and Tanya Bonakdar Gallery, New York

'The Phantom Library' (since 2011) is an ongoing project which consists of the production of a library of fictional books mentioned within other existing books by authors such as Philip K. Dick, Stanislaw Lem, Jorge Luis Borges, Vladimir Nabokov, Roberto Bolano, among others. Kurant acquires ISBN numbers and barcodes to give these fictional books actual economic identities, and then produces a physical copy of each book. Printing processes that normally manufacture thousands of copies produce just one copy of each book, creating a series of 'unique multiples.' 'The Phantom Library' anticipates the future hybrid modes of production hovering between mass production and individuality, with industrially produced unique objects, each one the result of a negotiation between nano agents, or altered by an algorithm. The back cover of each book includes a plot summary and/or all of the information about the fictional book that was provided by the original author describing it. In collaboration with designer and artist Kasia Korczak the typography has been designed for an unknown content: the three typefaces on the cover have been altered and distorted by different computer algorithms to produce an endless quantity of new typefaces ranging from pure abstractions to readable ones. Several books in 'The Phantom Library' were subsequently commissioned. When these books are written and published by the invited writers they will gradually replace the blank pages of the books in the Library. 'Phantom Library' refers to the purely imaginary fabrication of value in financial capitalism ('phantom capital') and to speculation becoming a mode of production in both art and finance.

*The Members Library is constructed and designed by the artist Céline Condorelli (b. 1974, France) in collaboration with Harry Thaler as a permanent work entitled 'Things That Go Without Saying'. The structure built for The Members Library is part of a series entitled 'Additionals'. These different prop-like objects and quasi-functional structures operate at a scale between furniture and architecture.


On display continuously

Ian Wilson
1 February 2013 –

Ian Wilson (b. 1940, South Africa) is an artist whose work bears a powerful resemblance to the Kunstverein's own mission: to explore the relationship between the viewed – or discussed – and the viewer, and the urgency involved in these interactions.

Wilson has been exploring spoken language as an art form since 1968. He has described his own work as "oral communication" and later as "discussion." At Wilson's own request, his work is neither filmed nor recorded, thereby preserving the transient nature of the spoken word. Wilson's earlier artistic explorations took place entirely in monochrome. He was absorbed by questions relating to perception and painting. The works were indebted to the innovations of Minimal Art in the late 1950s and early 1960s with its distillation of painting to nonrepresentational self-reflectivity and stripping of sculpture to the bare bones of industrially fabricated geometric form without determinable metaphoric content.

Wilson's last physical objects, 'Circle on the Floor' and 'Circle on the Wall', were created in early 1968. By making these works, Wilson realized that it was not necessary to produce an object to visualize a concept.

To highlight his importance to the program, the Grazer Kunstverein has devoted a permanent solo exhibition to Wilson's work. The show presents different works throughout the years as well as a permanent display of a commissioned and acquired 'Discussion'. This discussion on the pure awareness of The Absolute took place at the Grazer Kunstverein on the 4th of May between the artist, current staff, and previous directors of the Grazer Kunstverein since 1986.

On display:
'Discussion (Grazer Kunstverein)', 2013
Donated by Stefan Stolitzka for the collection of the Grazer Kunstverein


The Peacock
1 February 2013 –

The Grazer Kunstverein continues to examine its interior by introducing (new) furniture, design, and applied and decorative arts that analyze their own functionality. 'The Peacock', as this non-stop group show is titled, is inspired by the notion of a Period Room, a room that defines a moment in time, as well as the animal itself, one that represents internal and external pride. A group of artists will be invited to contribute works to enhance the functioning space of Grazer Kunstverein with design pieces and conceptual interventions. (Parts of) these works will reappear and be juxtaposed alongside others in upcoming solo exhibitions and will therefore form the backbone and interior of the Kunstverein.

On display
7 March – 23 May 2015

Dexter Sinister
'Tinctures', 2010

Dexter Sinister is a designer-editor-publisher duo established in 2006 by Stuart Bailey and David Reinfurt. Their activities, which include a workshop and bookstore in New York, explore the possibilities of publishing in both printed and digital form – often in relation to art production. Many of their projects are site-specific and time-sensitive, including publications and events produced live in galleries over set periods of time. In 2011, they produced carpet tiles based on 'tinctures.'

Tinctures are the colors used to emblazon a coat of arms in heraldry. Specific designs often had to be communicated using black-and-white drawings alone. In the absence of true color representation, a coded system of line hatching was developed that could easily distinguish one tincture from another. Each tincture has a proper, corresponding heraldic name. The tiles produced by Dexter Sinister are spread throughout the galleries.

Courtesy of the artists


Josh Faught
'Five O'clock Shadow', 2009
'Dale, Tony, Bob, and Henry', 2015

Reveling in the suburban panic punctuated by a hysterical self-help culture, compulsion toward decoration, and docu-dramatic tragedy, Josh Faught's (b. 1979, US) work uses elements of textiles, collage, sculpture, and painting to triangulate between a space that negotiates textile, social/political, and personal histories. These mythologized reconfigurations respond to ongoing interests surrounding possibilities in narrative between object, ornamentation, sexual difference, desire, and the site of domestic dysfunction. This is particularly illustrated in the work 'Five O'clock Shadow', which brings together Agatha Christie, Sylvia Plath and a knitted clock that displays five o'clock.

For the entrance of the Grazer Kunstverein, Faught developed a bronze plaque, which displays the names 'Dale, Tony, Boy, and Henry'. The work began as a question. What does it mean to summon a common American male's first name? How might this simple form of summoning act as a way to render someone or something visible and how does this work exist as a corporeal surrogate? 'Dale, Tony, Boy, and Henry,' which co-exists with an entire series of 'named' work, extended from the artist's interest in queer archival material. Within these archives, it's easy to find men's names appearing side by side, at once as a way to conjur desire in the form of 'trick' lists, as a memorial in the form of the NAMES project, or as a means of support in the unique ways that gay men forge intimacy and connection with each other.

Courtesy of the artist, Grazer Kunstverein, and Gallery Lisa Cooley, New York


Felix Gonzalez-Torres
'Untitled (Chemo)', 1991

Born in Cuba, American artist Gonzalez-Torres (1957–1996) settled in New York in the late 1970s. He participated in the art collective Group Material in the 1980s, was an engaged social activist, and in a relatively short time developed a profoundly influential body of work that can be seen in a critical relationship to Conceptual Art and Minimalism, mixing political critique, emotional affect, and deep formal concerns in a wide range of media, including drawings, sculpture, and public billboards, often using ordinary objects as a starting point – clocks, mirrors, or light fixtures. A manifestation of 'Untitled (Chemo)' consists of strands of white, transparent, and metallic beads displayed as a passage between two spaces that creates a feeling of transcendence. The beads might suggest festive associations and might also be understood to admonish illness and disease. As with so many of Gonzalez-Torres' artworks, it was conceptually important for the artist that the meaning of the work remains as open as possible and that varying associations are allowed to develop around 'Untitled (Chemo)' over time.

On loan from GLENSTONE

©The Felix Gonzalez-Torres Foundation
Courtesy of Andrea Rosen Gallery, New York


Karl Larsson*
'Washing Rimbaud's heart', 2014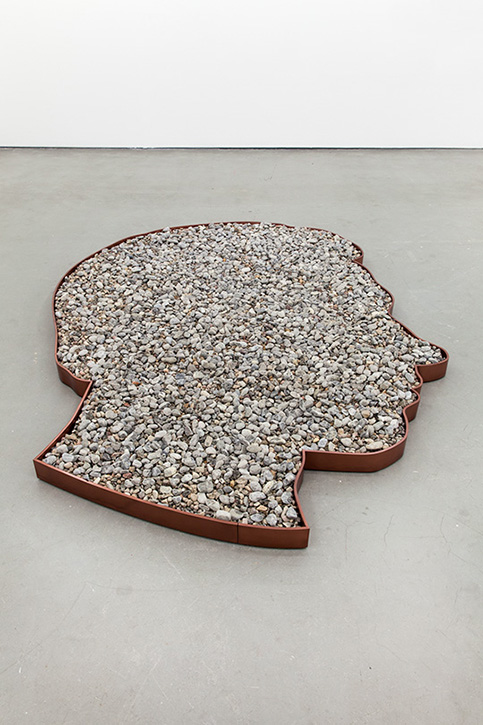 Karl Larsson
'Washing Rimbaud's heart', 2014
Stones and metall, 291 x 401 x 13 cm
Courtesy the artist and Galerie Nordenhake AB

Karl Larsson (b. 1977, Sweden) is an artist, poet, and editor. These diverse positions have coalesced into an artistic practice that can be described as both editorial and literary, but differs from "writing" in a conventional sense as it focuses on spatial experience and embodiment.

'Washing Rimbaud's heart' takes the portrait of French poet Arthur Rimbaud as its starting point. One of the few portraits made of Rimbaud (post-mortem) is a bronze bust, which resides in his hometown of Charleville, Ardennes. With the bust as a model, Larsson created a large profile portrait of Rimbaud made out of copper and beach stones. This juxtaposition of material and words (copper, stone, water, beach) becomes a metaphorical understanding of thought and writing.

*New addition


Nicolás Paris
'Portable Garden', 2009–2013

Coming from an architectural background, Nicolás Paris (b. 1977, Colombia) often draws on pedagogical strategies to incorporate elements of collaboration, dialogue, and exchange in his work. In order to develop events and places, which encourage the exchange of reflections, Paris' work is oriented to create dialogue environments for the observer, the exhibition space, and the institutions.

Paris' 'Portable Garden' consists of a green pencil, with the eponymous words engraved in it. The pencil is used by the staff to mark the number of visitors coming to the Grazer Kunstverein during the period of the exhibition.

Courtesy of the artist and Galeria Luisa Strina, Sao Paulo.


Will Stuart
'On the positioning of a replica of Michelangelo Pistoletto's Struttura per parlare in piedi. (Structure for talking while standing) 1965–66, from the series Oggetti in meno 
(Minus objects), reproduction', 2012

Positioned wherever negotiated, Will Stuart (Will Holder and Stuart Bailey) present a replica of Struttura per parlare in piedi, a work by Michelangelo Pistoletto (b. 1933, Italy) that belongs to his series of Minus Objects.

The work is accompanied by a public notice investigating the original intentions behind the work, and how subsequent negotiations with the various parties involved reflect its ambiguous doubling as furniture (for the public to lean on) and metaphor (for the politics of conversation). The object is an ongoing source of friction during the consideration of space and function within discursive programming.

An exhibition of Michelangelo Pistoletto's work was organized at the Grazer Kunstverein in 1988.

Courtesy of the artists


Barbara Visser
'Vereinvögel/ Societybirds', 2014 –

The premises of Grazer Kunstverein are quite literally transparent as the façade of the gallery space is completely covered with windows. Visitors and people passing by always peer inside to catch glimpses of the exhibitions or events taking place. Artist Barbara Visser (b. 1996, Netherlands) explores this public/private tension in a new semi-permanent commission covering most of the institution's façade. Visser's work has been occupied with the uncertain relationship between registration and dramatization. Many of her works deal with the notions of original and reproduction, and raise the question of whether these copies are 'well behaved' and do justice to the original, or whether they are fraudulent signs that swallow up the original in a vortex of delusion. Formally, the work varies greatly, ranging from photography, film, and video to printed matter, text, and performance yet remaining grounded in recurrent themes such as authenticity and artificiality, perception and cultural coding, convention and exception, reproduction and documentation. By infiltrating existing systems in various ways, and reflecting on them, the artist challenges the viewer to reconsider ingrained perceptions.

Courtesy of the artist and Grazer Kunstverein


Robert Wilhite
'Small Black Chair', 1984

Robert Wilhite's (b. 1946, United States) practice is characterized by an ongoing battle between the serendipitous and the calculated, the conceptual and the tangible. His work moves freely between mediums and disciplines, from sculpture and performance to flatware design. In the late 1970s, Wilhite collaborated on four plays with French artist Guy de Cointet, producing props and a set design for the performance. 'Small Black Chair' is a reproduction of one of these props and will continuously be reproduced when needed within the Grazer Kunstverein's program.

Courtesy the artist