13 June – 2 August 2015

ars viva Prize 2014/15:
Aleksandra Domanovic, Yngve Holen and James Richards

The Grazer Kunstverein presents the winners of the prestigious ars viva-Prize 2014/15: Aleksandra Domanović (b. 1981 in Novi Sad, Serbia), Yngve Holen (b. 1982 in Braunschweig, Germany) and James Richards (b. 1983 in Cardiff, Wales).

The ars viva-Prize, which has been presented by the Kulturkreis der deutschen Wirtschaft im BDI (Association of Arts and Culture of the German Economy at the Federation of German Industries) every year since 1953, is awarded to young visual artists who live and work in Germany. Previous winners include Marina Abramović & Ulay, Katharina Sieverding, Rosemarie Trockel, Candida Höfer, Thomas Struth, Anna Oppermann, Jeanne Faust, Thomas Demand or Omer Fast. The ars viva Prize consists of an award of 5,000 EUR to each selected artist as well as a series of exhibitions, a bilingual catalogue and a limited artist edition. This year's jury was chaired by Ulrich Sauerwein and consisted of seven members of the Kulturkreis Fine Arts Committee, curators Dr. Brigitte Kölle (Hamburger Kunsthalle), Christina Végh (Bonner Kunstverein), and Krist Gruijthuijsen (Grazer Kunstverein), along with Susanne Pfeffer (Fridericianum Kassel) as an expert advisor.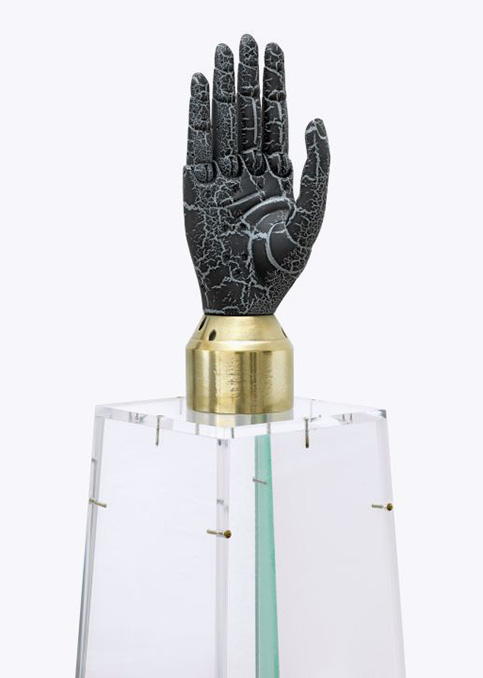 Aleksandra Domanovic
'Fatima', 2013–14
Laser sintered PA plastic, polyurethane, Soft-Touch & brass finish, acrylic glass, 157 x 30 x 30 cm
Courtesy Galerie Tanya Leighton

Aleksandra Domanović's work is concerned with the circulation and reception of images and information, particularly as they shift meaning and change register, traversing different contexts and historical circumstances. Her works create strange taxonomies and manic associative chains that poke and prod at copyright laws, unpack the geopolitical implications of web domains, or explore, for instance, the model of exhibitions (the co-creation of the collaborative exhibition platform vvork.com). Most recently, Domanovic´ has turned her attention to the complex ways in which image culture and information flows have formed the post-war environment of the former Yugoslavia. Whether investigating the phenomenon of what she dubs 'Turbo Sculpture' – monumental statues of American celebrities and movie characters like Bruce Lee, Johnny Depp, and Rocky Balboa, that have been erected across the former Yugoslavia – or constructing modest steles out of printer paper emblazoned with digital distortions of images from pre- and post-war life, or making semi-autobiographical forays into a rave scene that united the youth of the balkanized Yugoslavian territory, Domanović addresses the ways in which we attempt to heal the wounds of history through conviviality and denial.

The work of Yngve Holen is characterized by the appropriation of advanced technologies. His sculptural practice is instilled with a corporeal sensibility, reflecting our complex experience with our everyday surroundings. Holen's sculptures draw upon industrial technologies and their relationships to production engineering, problems of replaceability, the consumer experience, and the images and discourses through which all these are represented. How are consumers allowed to visualise abstruse economic or industrial processes, and how are the consumers themselves visualised? Holen investigates industries such as commercial aviation, 3D technology, consumer appliances, and food. For the exhibition, the artist has produced a new series of works with the face of CT scanners, the machines that create tomographic images from computer-processed X-rays, allowing users to see inside biological objects without cutting. The component's gateway form is one of the most recognizable in the fields of medicine and clinical imaging technology. Produced using the factory tooling for the Siemens SOMATOM Force model, the parts have been left untreated, revealing their beige medical-grade plastic, and dressed with black, white, or yellow fishnet stretch fabric.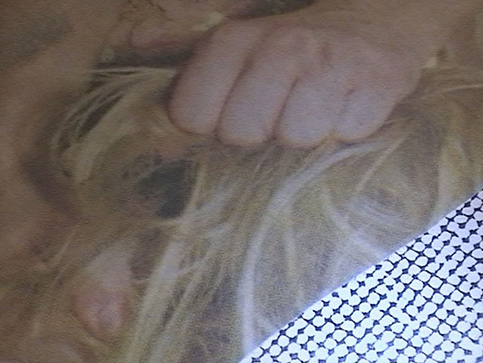 James Richards
'Practice Theory', 2006
Single channel video, 2'18''
Courtesy Rodeo, London/Istanbul

Working across video, sound and installation, James Richards' artistic practice embodies the role of curator, editor and archivist. He uses found, borrowed and self generated material as an expressive and highly personal form of collage. Richards' often channels other artistic voices through his work too, such as those of Julia Heyward, Stuart Marshall and Stuart Baker whose films he has curated into his installation. Richards is often considered as belonging to a generation of artists who work under conditions determined by an increasingly digitalized dissemination of artistic practice, in which the storage, recall and reworking of information is continuous and fluid. Accordingly, his work possesses a certain contingent and improvised quality, whereby materials are collected over time and re-assembled for different pieces, contexts or audiences. For example, in the video work Rosebud (2013) the surface of a pond cuts the sexually explicit photographs in library books, which have been censored through the intense scratching of the image. The familiar and prohibited are thrown into relief, in unexpected combinations, which suggests a breaking down of surfaces and cultural (in)significance.

The ars viva 2014/15 exhibition opened at the Hamburger Kunsthalle (19 October 2014 – 19 February 2015) and subsequently travelled to the Bonner Kunstverein (7 March – 17 May 2015). All three institutions presented a selection of existing as well as newly commissioned works by the artists. The exhibition is accompanied by a catalogue published by Hatje Cantz.


The Members Library* presents

EN/OF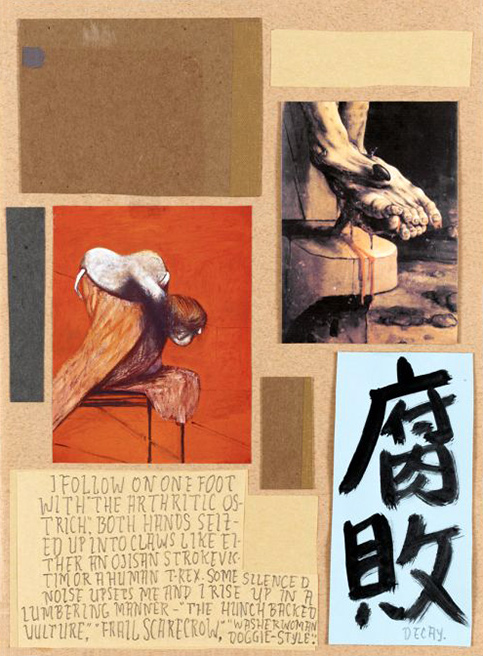 EN/OF 045
Richard Hawkins
'Selections from the Ankoku Series' (version A), 2011

The edition project EN/OF (And/Or) is an initiative of Berlin based curator and music publisher Robert Meijer (Beverwijk, 1977). Since 2001 he has been working on this project that aims to bring together visual art and music. The idea behind the EN/OF series of editions is simple: ask both a musician and an artist to make a contribution that fits within the format of a record-sleeve. Each EN/OF edition consists of an LP and an artwork, produced in an edition of 100. EN/OF is a logical extension to Meijer's record labels Bottrop-Boy and Semishigure. The first label is used for releasing experimental music; the second is devoted to music with an artistic aspect, like the soundtracks Liam Gillick made for Sarah Morris' videoworks or the soundworks of visual artist Christina Kubisch. At the Grazer Kunstverein a selection from the past 50 EN/OF editions are on display and can be listened to as well.

*The Members Library is constructed and designed by the artist Céline Condorelli (b. 1974, France) in collaboration with Harry Thaler as a permanent work entitled Things That Go Without Saying. The structure built for The Members Library is part of a series entitled Additionals. These different prop-like objects and quasi-functional structures operate at a scale between furniture and architecture.


On display continuously

Ian Wilson
1 February 2013 –

Ian Wilson (b. 1940, South Africa) is an artist whose work bears a powerful resemblance to the Kunstverein's own mission: to explore the relationship between the viewed – or discussed – and the viewer, and the urgency involved in these interactions.

Wilson has been exploring spoken language as an art form since 1968. He has described his own work as "oral communication" and later as "discussion." At Wilson's own request, his work is neither filmed nor recorded, thereby preserving the transient nature of the spoken word. Wilson's earlier artistic explorations took place entirely in monochrome. He was absorbed by questions relating to perception and painting. The works were indebted to the innovations of Minimal Art in the late 1950s and early 1960s with its distillation of painting to nonrepresentational self-reflectivity and stripping of sculpture to the bare bones of industrially fabricated geometric form without determinable metaphoric content.

Wilson's last physical objects, Circle on the Floor and Circle on the Wall, were created in early 1968. By making these works, Wilson realized that it was not necessary to produce an object to visualize a concept.

To highlight his importance to the program, the Grazer Kunstverein has devoted a permanent solo exhibition to Wilson's work. The show presents different works throughout the years as well as a permanent display of a commissioned and acquired Discussion. This discussion on the pure awareness of The Absolute took place at the Grazer Kunstverein on the 4th of May between the artist, current staff, and previous directors of the Grazer Kunstverein since 1986.

On display:
'Discussion (Grazer Kunstverein)', 2013
Donated by Stefan Stolitzka for the collection of the Grazer Kunstverein


The Peacock
1 February 2013 –

The Grazer Kunstverein continues to examine its interior by introducing (new) furniture, design, and applied and decorative arts that analyze their own functionality. The Peacock, as this non-stop group show is titled, is inspired by the notion of a Period Room, a room that defines a moment in time, as well as the animal itself, one that represents internal and external pride. A group of artists will be invited to contribute works to enhance the functioning space of Grazer Kunstverein with design pieces and conceptual interventions. (Parts of) these works will reappear and be juxtaposed alongside others in upcoming solo exhibitions and will therefore form the backbone and interior of the Kunstverein.

On display
13 June – 2 August 2015

Dexter Sinister
'Tinctures', 2010

Dexter Sinister is a designer-editor-publisher duo established in 2006 by Stuart Bailey and David Reinfurt. Their activities, which include a workshop and bookstore in New York, explore the possibilities of publishing in both printed and digital form – often in relation to art production. Many of their projects are site-specific and time-sensitive, including publications and events produced live in galleries over set periods of time. In 2011, they produced carpet tiles based on "tinctures."

Tinctures are the colors used to emblazon a coat of arms in heraldry. Specific designs often had to be communicated using black-and-white drawings alone. In the absence of true color representation, a coded system of line hatching was developed that could easily distinguish one tincture from another. Each tincture has a proper, corresponding heraldic name. The tiles produced by Dexter Sinister are spread throughout the galleries.

Courtesy of the artists


Josh Faught
'Dale, Tony, Bob, and Henry', 2015

For the entrance of the Grazer Kunstverein, Josh Faught (b. 1979, US) developed a bronze plaque, which displays the names Dale, Tony, Boy, and Henry. The work began as a question. What does it mean to summon a common American male's first name? How might this simple form of summoning act as a way to render someone or something visible and how does this work exist as a corporeal surrogate? "Dale, Tony, Boy, and Henry," which co-exists with an entire series of "named" work, extended from the artist's interest in queer archival material. Within these archives, it's easy to find men's names appearing side by side, at once as a way to conjur desire in the form of "trick" lists, as a memorial in the form of the NAMES project, or as a means of support in the unique ways that gay men forge intimacy and connection with each other.

Courtesy of the artist, Grazer Kunstverein, and Gallery Lisa Cooley, New York


Nicolás Paris
'Portable Garden', 2009–2013

Coming from an architectural background, Nicolás Paris (b. 1977, Colombia) often draws on pedagogical strategies to incorporate elements of collaboration, dialogue, and exchange in his work. In order to develop events and places, which encourage the exchange of reflections, Paris' work is oriented to create dialogue environments for the observer, the exhibition space, and the institutions.

Paris' Portable Garden consists of a green pencil, with the eponymous words engraved in it. The pencil is used by the staff to mark the number of visitors coming to the Grazer Kunstverein during the period of the exhibition.

Courtesy of the artist and Galeria Luisa Strina, Sao Paulo.


Will Stuart
'On the positioning of a replica of Michelangelo Pistoletto's Struttura per parlare in piedi (Structure for talking while standing) 1965–66, from the series Oggetti in meno (Minus objects), reproduction', 2012

Positioned wherever negotiated, Will Stuart (Will Holder and Stuart Bailey) present a replica of Struttura per parlare in piedi, a work by Michelangelo Pistoletto (b. 1933, Italy) that belongs to his series of Minus Objects.

The work is accompanied by a public notice investigating the original intentions behind the work, and how subsequent negotiations with the various parties involved reflect its ambiguous doubling as furniture (for the public to lean on) and metaphor (for the politics of conversation). The object is an ongoing source of friction during the consideration of space and function within discursive programming.

An exhibition of Michelangelo Pistoletto's work was organized at the Grazer Kunstverein in 1988.

Courtesy of the artists


Barbara Visser
'Vereinvögel/ Societybirds', 2014 –

The premises of Grazer Kunstverein are quite literally transparent as the façade of the gallery space is completely covered with windows. Visitors and people passing by always peer inside to catch glimpses of the exhibitions or events taking place. Artist Barbara Visser (b. 1996, Netherlands) explores this public/private tension in a new semi-permanent commission covering most of the institution's façade. Visser's work has been occupied with the uncertain relationship between registration and dramatization. Many of her works deal with the notions of original and reproduction, and raise the question of whether these copies are "well behaved" and do justice to the original, or whether they are fraudulent signs that swallow up the original in a vortex of delusion. Formally, the work varies greatly, ranging from photography, film, and video to printed matter, text, and performance yet remaining grounded in recurrent themes such as authenticity and artificiality, perception and cultural coding, convention and exception, reproduction and documentation. By infiltrating existing systems in various ways, and reflecting on them, the artist challenges the viewer to reconsider ingrained perceptions.

Courtesy of the artist and Grazer Kunstverein


EN/OF is generously supported by the Embassy of the Netherlands in Austria.