26 September – 29 November 2015

AA Bronson's Sacre du Printemps

Featuring AA Bronson with Igshaan Adams, Keith Boadwee, Ryan Brewer, Elijah Burgher, Nicolaus Chaffin, Michael Dudeck, K8 Hardy, Matthias Herrmann, Reima Hirvonen, Yeonjune Jung, Mark Jan Krayenhoff van de Leur, Chrysanne Stathacos, Scott Treleaven and JX Williams.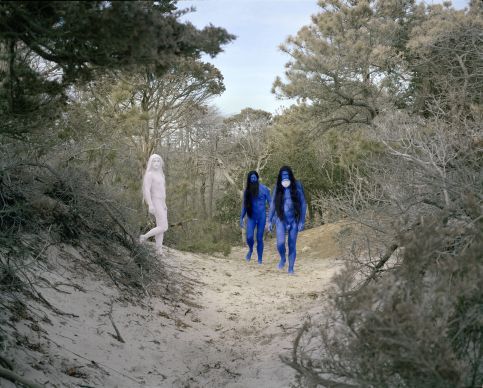 AA Bronson and Ryan Brewer, 'Blue' (detail), 2011
Duratrans transparency in lightbox, 180 x 240 cm
Courtesy: Esther Schipper, Berlin

The Grazer Kunstverein's continuous investigation into notions of social abstraction is carried further in response to the new 'Leitmotiv' of the steirischer herbst 2015, which investigates the notion of 'inheritance' by starting out from questions of property, transfer of knowledge and our handling of cultural heritage.

In collaboration with the Salzburger Kunstverein, Grazer Kunstverein has invited artist and healer AA Bronson (b. 1946, Vancouver, CA) to develop a large-scale project at both venues simultaneously. AA Bronson operates in this hybrid project as artist and curator, subject and object, in which he includes his solo work, his collaborations with younger artists and works by friends. As a founding (and only surviving member) of the collective General Idea (1969–1994), AA Bronson has had a long history with political and social issues in art and publishing, and especially with the AIDS crisis. Since then he has collaborated with many generations of artists across many disciplines. In the last fifteen years he has taken on spirituality as a key theme in his collaborations and art production.

At the Grazer Kunstverein, Stravinsky and Nijinsky's infamously scandalous ballet of 1913 gives name to this sequence of rites and sacrifices, overseen by sage elders, here given form in the person of AA Bronson himself. Themes of spirit, sex and darkness are knit into a labyrinth structure that takes over all the gallery spaces.

An oversized mandala of rose petals by Chrysanne Stathacos opens the exhibition and functions as a twin to a similar installation at the Salzburger Kunstverein. The artist installs the work during the opening while conversing with the public. The mandala is framed by a work of Yeonjune Jung. Jung's What a Beautiful World! is a wallpaper installation, which depicts sites of gay trauma in London.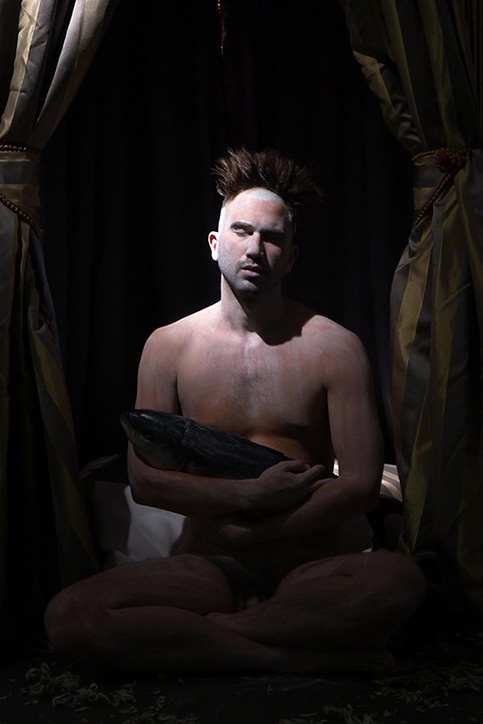 Michael Dudeck, FISH M/OTHER RE-MIX, 2013
© Matthias Herrmann

In the first of a series of galleries, AA Bronson and Scott Treleaven present Cabine, a tent that is at once changing cabin on the Lido, private booth in a gay sauna, and a fortuneteller's carnival booth. During the opening, Michael Dudeck will perform an intense durational work based on ritual Hebrew text within the tent structure. Sharing the gallery is Ashes to Ashes, the remains of a performance by Nicolaus Chaffin and AA Bronson invoking the spirits of the dead in Fire Island's Magic Forest, where countless men who died of AIDS have had their ashes spread. Blue by AA Bronson and Ryan Brewer underlines this notion of invocation by depicting spirits that wonder the forest.

The galleries that follow reflect on ritual through the work of Elijah Burgher, who has constructed a ritual space of paintings of magical sigils, and the work of Igshaan Adams, who chants inside a labyrinth of veils. The portraits of burning penises and a publication inspired by a dancer's jockstrap, both by Matthias Herrmann, a custom-made jockstrap of ribbon by Mark Jan Krayenhoff van de Leur, and K8 Hardy's Untitled (Jockstrap Dress) each reflect on the notion of the jockstrap as a cultural queer reliquary, rather than faux athletic aid. The exhibition-within-the-exhibition, Queer Zines, brings together more than 150 independently published queer magazines from the 1970s to today. Other works by Reima Hirvonen, JX Williams and AA Bronson complete the selection.

Each of these works tells a piece of a story, a history, and together they become a pagan romance, a series of rites, a sacrifice, and a gathering of sage elders.


Salzburger Kunstverein presents:

AA Bronson's Garden of Earthly Delights
19 September – 22 November 2015

Featuring AA Bronson with Chrysanne Stathacos, Mark Jan Krayenhoff van de Leur, Keith Boadwee, Adrian Hermanides, Matthias Herrmann, Gareth Long, Ebe Oke and JX Williams.

At the Salzburger Kunstverein, AA Bronson presents a meditation on the spiritual, the erotic and the shadow, each an aspect of the other. The exhibition is a queer reflection on Hieronymous Bosch's triptych of the same name, painted circa 1500, here married with Japan's famous Zen garden of Ryoanji, constructed in 1499. Both works – the painted garden and the rock garden – offer us a vision of the spiritual as a constructed universe: they are each a queer universe held within dramatized limits, like a gay bar or a drag club.


On display continuously

Ian Wilson
1 February 2013 –

Ian Wilson (b. 1940, South Africa) is an artist whose work bears a powerful resemblance to the Kunstverein's own mission: to explore the relationship between the viewed – or discussed – and the viewer, and the urgency involved in these interactions.

Wilson has been exploring spoken language as an art form since 1968. He has described his own work as "oral communication" and later as "discussion." At Wilson's own request, his work is neither filmed nor recorded, thereby preserving the transient nature of the spoken word. Wilson's earlier artistic explorations took place entirely in monochrome. He was absorbed by questions relating to perception and painting. The works were indebted to the innovations of Minimal Art in the late 1950s and early 1960s with its distillation of painting to nonrepresentational self-reflectivity and stripping of sculpture to the bare bones of industrially fabricated geometric form without determinable metaphoric content.

Wilson's last physical objects, Circle on the Floor and Circle on the Wall, were created in early 1968. By making these works, Wilson realized that it was not necessary to produce an object to visualize a concept.

To highlight his importance to the program, the Grazer Kunstverein has devoted a permanent solo exhibition to Wilson's work. The show presents different works throughout the years as well as a permanent display of a commissioned and acquired Discussion. This discussion on the pure awareness of The Absolute took place at the Grazer Kunstverein on the 4th of May between the artist, current staff, and previous directors of the Grazer Kunstverein since 1986.

On display:
Discussion (Grazer Kunstverein), 2013
Donated by Stefan Stolitzka for the collection of the Grazer Kunstverein


The Peacock
1 February 2013 –

The Grazer Kunstverein continues to examine its interior by introducing (new) furniture, design, and applied and decorative arts that analyze their own functionality. The Peacock, as this non-stop group show is titled, is inspired by the notion of a Period Room, a room that defines a moment in time, as well as the animal itself, one that represents internal and external pride. A group of artists will be invited to contribute works to enhance the functioning space of Grazer Kunstverein with design pieces and conceptual interventions. (Parts of) these works will reappear and be juxtaposed alongside others in upcoming solo exhibitions and will therefore form the backbone and interior of the Kunstverein.

On display
26 September – 29 November 2015

Josh Faught
Dale, Tony, Bob, and Henry, 2015

For the entrance of the Grazer Kunstverein, Josh Faught (b. 1979, US) developed a bronze plaque, which displays the names Dale, Tony, Boy, and Henry. The work began as a question. What does it mean to summon a common American male's first name? How might this simple form of summoning act as a way to render someone or something visible and how does this work exist as a corporeal surrogate? "Dale, Tony, Boy, and Henry," which co-exists with an entire series of "named" work, extended from the artist's interest in queer archival material. Within these archives, it's easy to find men's names appearing side by side, at once as a way to conjur desire in the form of "trick" lists, as a memorial in the form of the NAMES project, or as a means of support in the unique ways that gay men forge intimacy and connection with each other.

Courtesy of the artist, Grazer Kunstverein, and Gallery Lisa Cooley, New York


Nicolás Paris
Portable Garden, 2009–2013

Coming from an architectural background, Nicolás Paris (b. 1977, Colombia) often draws on pedagogical strategies to incorporate elements of collaboration, dialogue, and exchange in his work. In order to develop events and places, which encourage the exchange of reflections, Paris' work is oriented to create dialogue environments for the observer, the exhibition space, and the institutions.

Paris' Portable Garden consists of a green pencil, with the eponymous words engraved in it. The pencil is used by the staff to mark the number of visitors coming to the Grazer Kunstverein during the period of the exhibition.

Courtesy of the artist and Galeria Luisa Strina, Sao Paulo.


Will Stuart
On the positioning of a replica of Michelangelo Pistoletto's Struttura per parlare in piedi (Structure for talking while standing) 1965–66, from the series Oggetti in meno (Minus objects) reproduction, 2012

Positioned wherever negotiated, Will Stuart (Will Holder and Stuart Bailey) present a replica of Struttura per parlare in piedi, a work by Michelangelo Pistoletto (b. 1933, Italy) that belongs to his series of Minus Objects.

The work is accompanied by a public notice investigating the original intentions behind the work, and how subsequent negotiations with the various parties involved reflect its ambiguous doubling as furniture (for the public to lean on) and metaphor (for the politics of conversation). The object is an ongoing source of friction during the consideration of space and function within discursive programming.

An exhibition of Michelangelo Pistoletto's work was organized at the Grazer Kunstverein in 1988.

Courtesy of the artists


Barbara Visser
Vereinvögel/Societybirds, 2014 –

The premises of Grazer Kunstverein are quite literally transparent as the façade of the gallery space is completely covered with windows. Visitors and people passing by always peer inside to catch glimpses of the exhibitions or events taking place. Artist Barbara Visser (b. 1996, Netherlands) explores this public/private tension in a new semi-permanent commission covering most of the institution's façade. Visser's work has been occupied with the uncertain relationship between registration and dramatization. Many of her works deal with the notions of original and reproduction, and raise the question of whether these copies are "well behaved" and do justice to the original, or whether they are fraudulent signs that swallow up the original in a vortex of delusion. Formally, the work varies greatly, ranging from photography, film, and video to printed matter, text, and performance yet remaining grounded in recurrent themes such as authenticity and artificiality, perception and cultural coding, convention and exception, reproduction and documentation. By infiltrating existing systems in various ways, and reflecting on them, the artist challenges the viewer to reconsider ingrained perceptions.

Courtesy of the artist and Grazer Kunstverein


AA Bronson's Sacre du Printemps is co-produced by the steirischer herbst and generously supported by Weitzer Hotels and Hyperallergic.