11 June – 7 August 2016

Matt Keegan & Kay Rosen
'Eine Wanderausstellung'

As part of its 30th anniversary programming, the Grazer Kunstverein carries on its dedication and investigation into language, exchange and communication by presenting an exhibition by American artists Matt Keegan and Kay Rosen. Following Philippe Van Snick's post-minimalist approach to painting, this exhibition investigates the physical relation to and translation of language in space, while simultaneously portraying an intimate dialogue between two artists from different generations.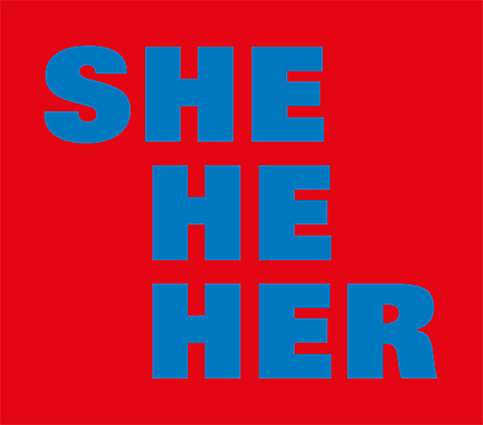 Kay Rosen, She Man, private collection Chicago

Kay Rosen (b. 1943, US) has been exploring the possibilities of the word-as-image for the past four decades following her early academic studies in languages and linguistics. Her work takes pleasure in the small shifts and the subtle changes in language that subvert meaning and reveal the unexpected. In her paintings, drawings, wall works and collages she uses color, scale, composition, grammatical and typographical strategies, and above all, the structure of language and letterforms to challenge the way people view, read and understand the works presented. In addition to the mailings with Keegan, Rosen will include in 'Eine Wanderausstellung' a three-part site-specific wall painting 'Happy Ever After'; a new video 'Blue Monday' and a small painting 'She-Man'.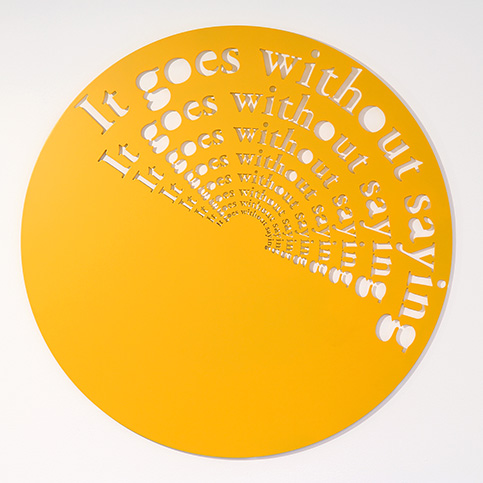 Matt Keegan
"It Goes Without Saying", 2011
Laser cut steel, 68.6 x 68.6 cm, Edition of 3
Courtesy of the Artist and Altman Siegel, San Francisco

Matt Keegan (b. 1976, US) is an interdisciplinary artist. For 'Eine Wanderausstellung' he presents a laser-cut sculpture, wall painting, video and collage that highlight his use of idiomatic phrases – for instance, "it goes without saying" or "picture perfect" – calling attention to the materiality of language and its open-ended possibilities. Like Rosen, Keegan mines the rich terrain of word-as-image, as seen in his video "N" as in Nancy. For his work, the artist's mother, Nancy, is shown assigning words and phrases to images that she assembled to teach English as a Second Language coursework to High School and Adult Education classes. Translation of images, material, meaning, color and form are foundationale to the Keegan's work.

Keegan and Rosen's shared interess led to a physical mail exchange started in 2009 and ongoing. Through their correspondence, they have created an archive of images, drawings, collages, and notes that map their thoughts and ideas about current events, their daily lives, pop culture, humor and more.

The exhibition Eine Wanderausstellung will be the first to bring together a selection of their mailings alongside works by each of the artists. The exhibition will take on a new form at the Contemporary Art Museum Houston in October.


The Members Library* presents

Peter Friedl
'The Diaries', 1981–2016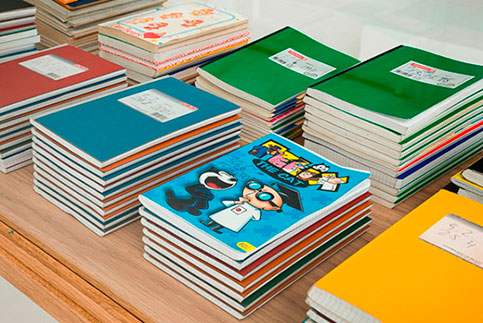 Since his early beginnings, writing and drawing – in the broadest sense – have been core activities of Friedl's artistic practice, in which critical intimacy, displacement, political awareness, conceptual transfers, and new models of narration play an important role. All of the artist's handwritten diaries from 1981 to 2016 will be on view at the Grazer Kunstverein.

More than three hundred closed notebooks are displayed in piles within specially designed museum showcases. As is often the case with Friedl's projects, juxtaposition and overexposure are the exhibition's very dynamics. In fact, The Diaries is an epic staging of real time, memory, volume, and text on paper. Thousands upon thousands of densely filled pages covering a period of over thirty years testify to the impossibility of capturing bare life in words. Like Friedl's other long-term projects such as Playgrounds (since 1995) and Theory of Justice (1992–2010) – both based on documentary photographic images – his diary installation is a study in narration and is open to change.

*The Members Library is constructed and designed by the artist Céline Condorelli (b. 1974, France) in collaboration with Harry Thaler as a permanent work entitled Things That Go Without Saying. The structure built for The Members Library is part of a series entitled Additionals. These different prop-like objects and quasi-functional structures operate at a scale between furniture and architecture.


On display continuously

Ian Wilson
1 February 2013 –

Ian Wilson (b. 1940, South Africa) is an artist whose work bears a powerful resemblance to the Kunstverein's own mission: to explore the relationship between the viewed – or discussed – and the viewer, and the urgency involved in these interactions.

Wilson has been exploring spoken language as an art form since 1968. He has described his own work as "oral communication" and later as "discussion." At Wilson's own request, his work is neither filmed nor recorded, thereby preserving the transient nature of the spoken word. Wilson's earlier artistic explorations took place entirely in monochrome. He was absorbed by questions relating to perception and painting. The works were indebted to the innovations of Minimal Art in the late 1950s and early 1960s with its distillation of painting to nonrepresentational self-reflectivity and stripping of sculpture to the bare bones of industrially fabricated geometric form without determinable metaphoric content.

Wilson's last physical objects, Circle on the Floor and Circle on the Wall, were created in early 1968. By making these works, Wilson realized that it was not necessary to produce an object to visualize a concept.

To highlight his importance to the program, the Grazer Kunstverein has devoted a permanent solo exhibition to Wilson's work. The show presents different works throughout the years as well as a permanent display of a commissioned and acquired Discussion. This discussion on the pure awareness of The Absolute took place at the Grazer Kunstverein on the 4th of May between the artist, the staff, and previous directors of the Grazer Kunstverein since 1986.

On display:

Discussion (Grazer Kunstverein), 2013
Donated by Stefan Stolitzka for the collection of the Grazer Kunstverein

Circle on the Wall, 1968


The Peacock
1 February 2013 –

The Grazer Kunstverein continues to examine its interior by introducing (new) furniture, design, and applied and decorative arts that analyze their own functionality. The Peacock, as this non-stop group show is titled, is inspired by the notion of a Period Room, a room that defines a moment in time, as well as the animal itself, one that represents internal and external pride. A group of artists will be invited to contribute works to enhance the functioning space of Grazer Kunstverein with design pieces and conceptual interventions. (Parts of) these works will reappear and be juxtaposed alongside others in upcoming solo exhibitions and will therefore form the backbone and interior of the Kunstverein.

On display
11 June – 7 August 2016

Julieta Aranda*
All the memory of the world (The Peacock)

"I remember how to drive a car, even though I haven't driven one in years. I remember the date of the French revolution. I remember the first time I saw the ocean as a child, I remember my first cat . . . I remember the smell of my grandmother's basement, I remember Newton's laws of gravitation, I forgot my keys in a taxi last night."

Julieta Aranda's project, All the memory of the world (The Peacock), consists of two sculptural interventions based on a newspaper designed and produced by the artist, which includes texts published on the occasion of The Peacock (2013–2016) at Grazer Kunstverein. Aranda's interventions look at the former iterations of The Peacock as a form of "declarative memory," a kind of representation of the past that requires an articulation towards the future. For Aranda, such articulations are part of a process in which we seek to track the truth and our witnessing of it – a type of memory that is contested but for which we become accountable.

Courtesy of the artist, Grazer Kunstverein


Josh Faught
Dale, Tony, Bob, and Henry, 2015

For the entrance of the Grazer Kunstverein, Josh Faught (b. 1979, US) developed a bronze plaque, which displays the names Dale, Tony, Bob, and Henry. The work began as a question. What does it mean to summon a common American male's first name? How might this simple form of summoning act as a way to render someone or something visible and how does this work exist as a corporeal surrogate? "Dale, Tony, Boy, and Henry," which co-exists with an entire series of "named" work, extended from the artist's interest in queer archival material. Within these archives, it's easy to find men's names appearing side by side, at once as a way to conjur desire in the form of "trick" lists, as a memorial in the form of the NAMES project, or as a means of support in the unique ways that gay men forge intimacy and connection with each other.

Courtesy of the artist, Grazer Kunstverein, and Gallery Lisa Cooley, New York


Liam Gillick
Discussion Island Dialogue Platform, 1997

Liam Gillick deploys multiple forms to expose the new ideological control systems that emerged at the beginning of the 1990s. He has developed a number of key narratives that often form the engine for a body of work. McNamara (1992 onwards) Erasmus is Late & Ibuka! (1995 onwards) Discussion Island/Big Conference Center (1997 onwards) and Construction of One (2005 onwards). Gillick's work exposes the dysfunctional aspects of a modernist legacy in terms of abstraction and architecture when framed within a globalized, neo-liberal consensus. His work extends into structural rethinking of the exhibition as a form.

At the Grazer Kunstverein, Gillick presents a double layered platform originally designed for the exhibition ENTERPRISE at the ICA in Boston. The work designates a space where it might be possible to reconsider the potential of dialogue.

Courtesy Esther Schipper


Kitchen Cat Plan (Flag), 2015

To continue its focus on language, communication and exchange, the Grazer Kunstverein has invited British artist Liam Gillick for a one-year commission as part of its 30th anniversary, which takes on the form of a large flag. The flag reflects the artist's continuous investigation into the infamous 'Frankfurt Kitchen', which was design by Austrian architect Margarete Schütte-Lihotzky in 1926. The kitchen was a milestone in domestic architecture considered the forerunner of modern fitted kitchens, for it realised for the first time a kitchen built after a unified concept, designed to enable efficient work and to be built at low cost. The reference to Schütte-Lihotzky functions as symbolic understanding of how a Kunstverein aims to function internally as well as externally. The flag was inaugurated and placed on January 1, 2016 in the ancient flagpole holder on the original façade of the Palais Trauttmannsdorff.

Courtesy the artist and Grazer Kunstverein


Christian Mayer*
Treshold and Inertia, 2014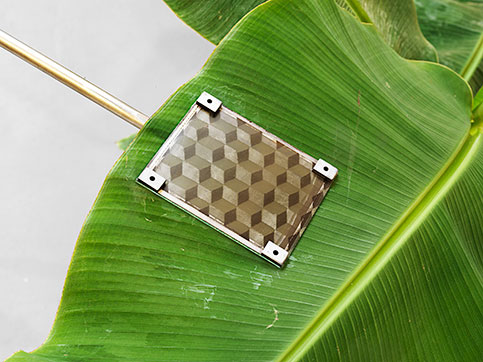 Christian Mayer
'Threshold and Inertia', 2014
7 Photographies on Polaroid Typ 55 positives, 7 Photographies on Polaroid Typ 55 negatives, plants (Musa acuminata 'Dwarf Cavendish'), Day light, metal pedestal, magnets, passepartout, wooden frame (100 cm x 70 cm)
Dimensionen variable
Installation view of the exhibition '2D23D', Galerie Ostlicht, 2014
Image Credit Sandro Zanzinger

The history and politics of documentation and photography form the base of Christian Mayer's practice in which often colonial subjects arise. Light as being both creator and annihilator of the photographic image is the main concern in the work 'Threshold and Inertia'. By utilizing the process of plant photosynthesis, Mayer manages to develop photographic images on the leafs of banana plants. The negative image used stems from the legendary American landscape photographer Ansel Adams, who in the 1960's worked as a consultant for Polaroid, for whom he made exposure tests with hand-woven Navajo rugs. The tests took on seven steps in order to show the possibilities of the film in reaction to light. The rugs are produced by Navajo people of the Four Corners area of the United States. Navajo textiles were originally utilitarian blankets for use as cloaks, dresses and similar purposes. Typical Navajo textiles have strong geometric patterns. Toward the end of the 19th century, weavers began to make rugs for tourism and export Navajo textiles and have ever since been sought after as trade items for over the past 150 years. After having reined the market of photography throughout 70's, 80's and early 90's, the original Polaroid Corporation when bankrupt by the end of 2001.

Collapsing past with present, Mayer exposed one of the rugs similar to Adams with a Polaroid Type 55 film, which produces a positive and negative image simultaneously.

For the duration of the exhibition the light entering through the gallery windows will expose the photo negatives that are attached to the banana leaves. This natural process, purely photographic in its essence, causes the images become more present. Once the negative is removed, the image will slowly fade out and disappear.

Courtesy the artist and Mezzanin, Vienna/Geneva


Nicolás Paris
Portable Garden, 2009–2013

Coming from an architectural background, Nicolás Paris (b. 1977, Colombia) often draws on pedagogical strategies to incorporate elements of collaboration, dialogue, and exchange in his work. In order to develop events and places, which encourage the exchange of reflections, Paris' work is oriented to create dialogue environments for the observer, the exhibition space, and the institutions.

Paris' Portable Garden consists of a green pencil, with the eponymous words engraved in it. The pencil is used by the staff to mark the number of visitors coming to the Grazer Kunstverein during the period of the exhibition.

Courtesy of the artist and Galeria Luisa Strina, Sao Paulo


Chadwick Rantanen*
Fluorescent Fitting, 2015

Realism is the neighbor of pragmatism. Look on the bright side: if you can not afford another state-of-the-art German lighting system, get cheap fluorescents. Not only does it come with a leaner price tag, but with that ever so valid reference to the industrial for the culture industry that is art. A certain sense of Sachlichkeit: check. A certain sense of symbolical surplus: check. A whole lot of the arbitrary: double check. This inherent whimsical quality to industry and industrial standards is at the heart of the works of Chadwick Rantanen (b. 1981, US); a constant seeking out of the tension, balance and frequent imbalance between the readymade and the handmade. Or rather, the logic of industrial production is isolated and slightly perverted to lay the ground for a logic of sculpture production. A slender wedging of form and function with the help of the modified, the adapted, the personalized, the pimped, the DIY-ed, the Nike ID-ed, the made-to-measure, the bespoke. So what do you want to do for this exhibition? I want to adjust the lights.

Courtesy the artist and Standard (Oslo)


Will Stuart
On the positioning of a replica of Michelangelo Pistoletto's Struttura per parlare in piedi (Structure for talking while standing) 1965–66, from the series Oggetti in meno (Minus objects) reproduction, 2012

Positioned wherever negotiated, Will Stuart (Will Holder and Stuart Bailey) present a replica of Struttura per parlare in piedi, a work by Michelangelo Pistoletto (b. 1933, Italy) that belongs to his series of Minus Objects.

The work is accompanied by a public notice investigating the original intentions behind the work, and how subsequent negotiations with the various parties involved reflect its ambiguous doubling as furniture (for the public to lean on) and metaphor (for the politics of conversation). The object is an ongoing source of friction during the consideration of space and function within discursive programming.

An exhibition of Michelangelo Pistoletto's work was organized at the Grazer Kunstverein in 1988.

Courtesy of the artists


*New additions