24 September – 18 December 2016

As the dominant West is no longer defining global economy, notions around education have shifted. With a different understanding of 'trade' and 'growth', children at a young age are confronted with new global systems, which is less geared towards a western understanding. In response to the leitmotiv of this years steirischer herbst, the Grazer Kunstverein presents an elaborate solo exhibition by British artist Beatrice Gibson, who in her recent works has been exploring structural parallels between pedagogy, avant-garde music and economics.

Gibson's films are composite collages, blending social modes of working with a diverse range of references, from the experimental compositions of Robert Ashley and Cornelius Cardew to the modernist writings of William Gaddis and Gertrude Stein. Her exhibition at Grazer Kunstverein aims to bring together an array of her films from the past 10 years. It is the first of its kind, with the artist presenting at The Members Library an additional selection of films by artists and filmmakers that inspire her practice such as Mary Helena Clark, Ben Russell, Laida Lertxundi, Leslie Thornton, Mati Diop and Mark Leckey.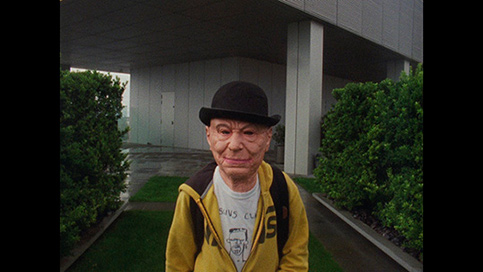 Beatrice Gibson, 'F for Fibonacci', 2014
16mm film transferred to HD, sound (surround)
Duration: 23 minutes
Courtesy: Laura Bartlett Gallery and LUX, London

In her work, Beatrice Gibson engages with a broad range of themes, but most are concerned with modes of production in music and sound. Her primary sources are the avant-garde composers of the 1950s and 1960s such as Cornelius Cardew, John Cage and those linked to the Fluxus movement. Gibson's projects are almost always participatory, incorporating co-creative and collaborative processes and ideas.

One example of this is Gibson's work, The Tiger's Mind (2012). Generated by a production process initiated by herself and typographer and designer Will Holder and based on the original score by Cornelius Cardew, a cast of collaborators were invited to each adopt a character from the score: Alex Waterman as the Tree, Jesse Ash as the Wind, John Tilbury as the Mind, Celine Condorelli as the Tiger, Will Holder as Amy and Gibson as the Circle. The resulting film presents itself as an abstract crime thriller. Set against the backdrop of a Brutalist villa, six characters – The set, music, sounds, special effects, director and narration respectively – battle one another for control of the film as it unfolds on screen. The film explores the relationships between these characters as they emerge and unfold: grappling, wrestling, and dreaming with one another.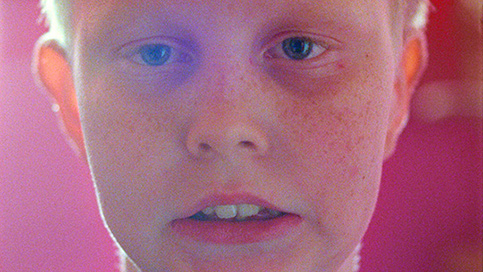 Beatrice Gibson, 'Crippled Symmetries', 2015
16mm film transferred to HD, surround sound
Duration: 26 mins
Courtesy: Laura Bartlett Gallery and LUX, London

Gibson is adept at mixing fiction and theory in her works. Her latest films such as F for Fibonacci (2014), Solo for Rich Man (2015, co-produced by the Grazer Kunstverein and winner of the 17th Baloise Art Prize at Art Basel) and Crippled Symmetries (2015) take American author William Gaddis' epic modernist novel JR (1975) as their departure point, together with the work of the little-known British experimental educator and composer John Paynter. In Gibson's strangely prophetic take on JR (1975) the artist uses social satire to tell the story of an eleven year old capitalist who, with the unwitting help of his school's resident composer, creates an anonymous virtual empire using the school's payphone. She links Gaddis' fictional world with the work of composer John Paynter, famous for taking the likes of Cornelius Cardew, John Cage and Karlheinz Stockhausen into primary schools to extol the virtues of utopian post-war pedagogical movements and child-centred education.

Beatrice Gibson lives and works in London. Recent solo screenings and exhibitions include, Collective Gallery, Edinburgh (2015), Statements, Art Basel (2015), Beatrice Gibson, Laura Bartlett Gallery (2014), Beatrice Gibson, Wilfried Lentz (2014), CAC Bretigny (2013), Index, The Swedish Contemporary Art Foundation, Stockholm; The Showroom, London (2012); Kunstlerhaus Stuttgart (2010), The Serpentine Gallery (Sackler Center) (2010). Gibson's films have been screened at numerous experimental film venues and film festivals, both nationally and internationally. These include The Rotterdam International Film Festival, Experimenta, The London Film Festival, Wavelengths, The Toronto Film Festival, Projections, The New York Film Festival, Light Industry, NY, Anthology Film Archives, NY and LA Film Forum. Gibson's work was also recently included in Assembly, A Recent Survey of Artist's Film and Video in Britain, 2008–2013, Tate Britain (2014). Gibson has twice won the Rotterdam International Film Festival Tiger Award for short film. In 2013 she was shortlisted for the 2013–15 Max Mara Art Prize for Women and in 2015 won the 17th Baloise Art Prize, Art Basel.

Beatrice Gibson is the last exhibition under the directorship of Krist Gruijthuijsen and the last within our 30th anniversary program. It is co-produced with steirischer herbst.


On display continuously

Ian Wilson
1 February 2013 –

Ian Wilson (b. 1940, South Africa) is an artist whose work bears a powerful resemblance to the Kunstverein's own mission: to explore the relationship between the viewed – or discussed – and the viewer, and the urgency involved in these interactions.

Wilson has been exploring spoken language as an art form since 1968. He has described his own work as "oral communication" and later as "discussion." At Wilson's own request, his work is neither filmed nor recorded, thereby preserving the transient nature of the spoken word. Wilson's earlier artistic explorations took place entirely in monochrome. He was absorbed by questions relating to perception and painting. The works were indebted to the innovations of Minimal Art in the late 1950s and early 1960s with its distillation of painting to nonrepresentational self-reflectivity and stripping of sculpture to the bare bones of industrially fabricated geometric form without determinable metaphoric content.

His last physical objects, Circle on the Floor and Circle on the Wall, were created in early 1968. Almost completely stripped of any material substance, these works are circles consisting only of outlines drawn in chalk and pencil, respectively. Using Wilsons meticulous instructions, the circles can be reproduced for use in any exhibition.

To highlight his importance to the program, the Grazer Kunstverein has devoted a permanent solo exhibition to Wilson's work. The show presents different works throughout the years as well as a permanent display of a commissioned and acquired Discussion. This discussion on the pure awareness of The Absolute took place at the Grazer Kunstverein on the 4th of May between the artist, the staff, and previous directors of the Grazer Kunstverein since 1986.

On display:
'Discussion (Grazer Kunstverein)', 2013
Donated by Stefan Stolitzka for the collection of the Grazer Kunstverein


The Peacock
1 February 2013 –

The Grazer Kunstverein continues to examine its interior by introducing (new) furniture, design, and applied and decorative arts that analyze their own functionality. The Peacock, as this non-stop group show is titled, is inspired by the notion of a Period Room, a room that defines a moment in time, as well as the animal itself, one that represents internal and external pride. A group of artists will be invited to contribute works to enhance the functioning space of Grazer Kunstverein with design pieces and conceptual interventions. (Parts of) these works will reappear and be juxtaposed alongside others in upcoming solo exhibitions and will therefore form the backbone and interior of the Kunstverein.

On display
24 September – 18 December 2016

Josh Faught
'Dale, Tony, Bob, and Henry', 2015

For the entrance of the Grazer Kunstverein, Josh Faught (b. 1979, US) developed a bronze plaque, which displays the names Dale, Tony, Bob, and Henry. The work began as a question. What does it mean to summon a common American male's first name? How might this simple form of summoning act as a way to render someone or something visible and how does this work exist as a corporeal surrogate? "Dale, Tony, Boy, and Henry," which co-exists with an entire series of "named" work, extended from the artist's interest in queer archival material.

Within these archives, it's easy to find men's names appearing side by side, at once as a way to conjur desire in the form of "trick" lists, as a memorial in the form of the NAMES project, or as a means of support in the unique ways that gay men forge intimacy and connection with each other.

Courtesy of the artist, Grazer Kunstverein, and Gallery Lisa Cooley, New York


Liam Gillick
'Discussion Island Dialogue Platform', 1997

Liam Gillick deploys multiple forms to expose the new ideological control systems that emerged at the beginning of the 1990s. He has developed a number of key narratives that often form the engine for a body of work. McNamara (1992 onwards) Erasmus is Late & Ibuka! (1995 onwards) Discussion Island/Big Conference Center (1997 onwards) and Construction of One (2005 onwards). Gillick's work exposes the dysfunctional aspects of a modernist legacy in terms of abstraction and architecture when framed within a globalized, neo-liberal consensus. His work extends into structural rethinking of the exhibition as a form.

At the Grazer Kunstverein, Gillick presents a double layered platform originally designed for the exhibition ENTERPRISE at the ICA in Boston. The work designates a space where it might be possible to reconsider the potential of dialogue.

Courtesy Esther Schipper


Nicolás Paris
'Portable Garden', 2009–2013

Coming from an architectural background, Nicolás Paris (b. 1977, Colombia) often draws on pedagogical strategies to incorporate elements of collaboration, dialogue, and exchange in his work. In order to develop events and places, which encourage the exchange of reflections, Paris' work is oriented to create dialogue environments for the observer, the exhibition space, and the institutions.

Paris' Portable Garden consists of a green pencil, with the eponymous words engraved in it. The pencil is used by the staff to mark the number of visitors coming to the Grazer Kunstverein during the period of the exhibition.

Courtesy of the artist and Galeria Luisa Strina, Sao Paulo


Dexter Sinister
'Tinctures', 2010

Dexter Sinister is a designer-editor-publisher duo established in 2006 by Stuart Bailey and David Reinfurt. Their activities, which include a workshop and bookstore in New York, explore the possibilities of publishing in both printed and digital form –often in relation to art production. Many of their projects are site-specific and time-sensitive, including publications and events produced live in galleries over set periods of time. In 2011, they produced carpet tiles based on "tinctures."

Tinctures are the colors used to emblazon a coat of arms in heraldry. Specific designs often had to be communicated using black-and-white drawings alone. In the absence of true color representation, a coded system of line hatching was developed that could easily distinguish one tincture from another. Each tincture has a proper, corresponding heraldic name. The tiles produced by Dexter Sinister are spread throughout the galleries.

Courtesy of the artists


Will Stuart
'On the positioning of a replica of Michelangelo Pistoletto's Struttura per parlare in piedi (Structure for talking while standing) 1965–66, from the series Oggetti in meno (Minus objects) reproduction', 2012

Positioned wherever negotiated, Will Stuart (Will Holder and Stuart Bailey) present a replica of Struttura per parlare in piedi, a work by Michelangelo Pistoletto (b. 1933, Italy) that belongs to his series of Minus Objects.

The work is accompanied by a public notice investigating the original intentions behind the work, and how subsequent negotiations with the various parties involved reflect its ambiguous doubling as furniture (for the public to lean on) and metaphor (for the politics of conversation). The object is an ongoing source of friction during the consideration of space and function within discursive programming.

An exhibition of Michelangelo Pistoletto's work was organized at the Grazer Kunstverein in 1988.

Courtesy of the artists


Robert Wilhite
'Small Black Chair', 1984

Robert Wilhite's (b. 1946, United States) practice is characterized by an ongoing battle between the serendipitous and the calculated, the conceptual and the tangible. His work moves freely between mediums and disciplines, from sculpture and performance to flatware design. In the late 1970s, Wilhite collaborated on four plays with French artist Guy de Cointet, producing props and a set design for the performance. Small Black Chair is a reproduction of one of these props and will continuously be reproduced when needed within the Grazer Kunstverein's program.

Courtesy the artist