6 June – 3 August 2014

The Grazer Kunstverein's ongoing investigation into notions of social abstraction has been slowly shifting towards the often-direct relationships between artists and their surroundings. Both emotional as well as intellectual, these relationships frequently result in abstract translations that still keep 'the social' as their core point of interest.


Hreinn Friðfinnsson & Bruce McLean

Hreinn Friðfinnsson (b. 1943, IS) and Bruce McLean (b. 1944, GB) are pioneer artists from the same generation who, to this day, have never met. Juxtaposed to each another, these artists explore, each in their own way, their physical presence and relationship towards artistic production and representation.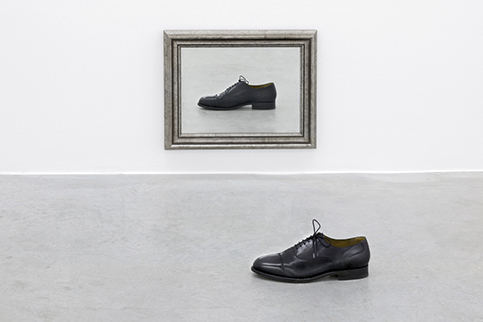 Hreinn Friðfinsson
'Pair', 2004
Mirror with silver wooden frame, Shoe
48 x 57 cm (mirror)
Courtesy the artist and ADN Collection, Bolzano

In the mid-1970s, the Icelandic artist Hreinn Friðfinnsson placed an advert in a Dutch art magazine asking people to send him their secrets. By posing as a collector of secrets, the artist would, he thought, allay suspicions that he had any ulterior motive in using or revealing privileged information that might come his way. The secret, Friðfinnsson may be telling us, is that there isn't one. His art, on the other hand, is an invitation to imagine that there might be. The artist's work is known for its lyricism and subtle poetry that transcends the often-commonplace subjects and materials that the artist uses to create his pieces. He often presents found objects with which he interferes as little as possible, creating new works that investigate ideas of 'the self' and of 'time'. Friðfinnsson is a natural storyteller. Most of his works often beg for a narrative, or the fabrication of a story.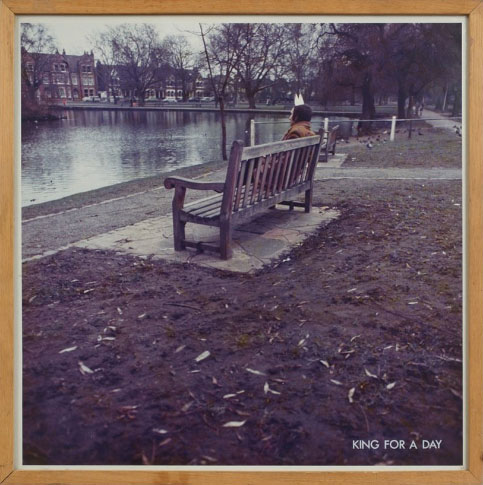 Bruce McLean
'King for a Day', 1972
Colour vintage photograph, 40 x 40 cm, Unique
Courtesy the artist and Tanya Leighton, Berlin

On invitation to exhibit at the Tate Gallery in 1972, Bruce McLean decided to organize a one-day retrospective titled 'King for a Day', after which he would retire from the art world. Despite a distanced and often cynical approach towards the professionalized art industry, he seems to be more active then ever.

McLean's early research into notions of sculpture gave him the reputation of 'master at mockery', questioning the production and representation of 'the artist' as well as 'the work' itself. It was with his performative works that he first grabbed the attention of the art world. Full of wit and humour, McLean critiqued the fashion-oriented, social climbing nature of the contemporary art world in the '70s. At a later stage, the prop and painter-like aspects of some of the early performative works developed into theatre pieces and, most recently, into paintings.

Playing with these notions of 'presence' and 'absence', the Grazer Kunstverein presents a key selection of works that provoke and enhance the conceptual realm both artists seem to occupy.


The Members Library*

Tamara Henderson
'Tapped Out and Spiraling in Stride'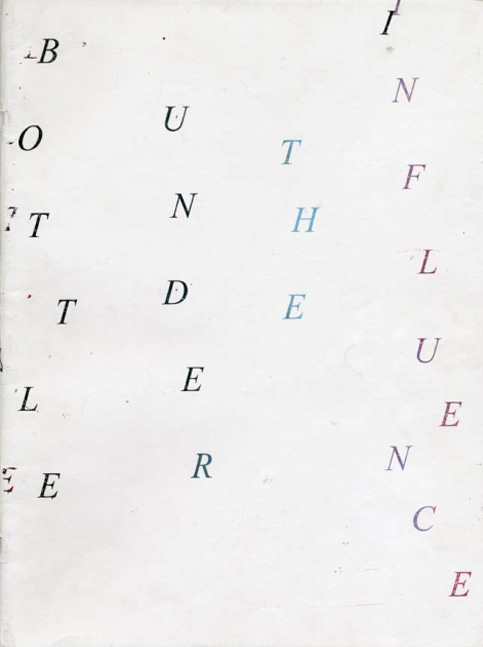 Tamara Henderson
'Bottle Under the Influence', 2012
Publication
Courtesy the artist and Rodeo, Istanbul

Tamara Henderson's practice derives from a unique methodology wherein her works become reconstructions of the unconscious. The basis of her texts, books, drawings, prints, films, furniture and paintings is the meticulous documentation of her dreams and impressions during hypnosis, which are translated into words and forms in those various media. The starting point is the artist's everyday environment: her studio, her apartment, the furniture, the bed. At these production sites she develops layouts for her works that are captured as after-images of dreamed objects and occurrences in the moment of awakening or hypnosis. As a result, everyday objects are peculiarly alienated, taking the viewer into something like a parallel universe where the presence of the artist is more felt then witnessed. Her books read like dream diaries but also serve as screenplays for the films, in which animated objects take part in an orchestrated surreal wonderland. The exhibition shows all the books Henderson produced up until today, combined with films and furniture in order to make the thematic interlacing of the works more visible.

*The Members Library is constructed and designed by artist Céline Condorelli in collaboration with Harry Thaler as a permanent work entitled 'Things That Go Without Saying'. The structure built for The Members Library is part of a series entitled 'Additionals'. These different prop-like objects and quasi-functional structures operate at a scale between furniture and architecture.


Permanently on display

Ian Wilson
1 February 2013 –

Ian Wilson (b. 1940, South Africa) is an artist whose work bears a powerful resemblance to the Kunstverein's own mission: to explore the relationship between the viewed – or discussed – and the viewer, and the urgency involved in these interactions.

Wilson has been exploring spoken language as an art form since 1968. He has described his own work as 'oral communication' and later as 'discussion'. At Wilson's own request, his work is neither filmed nor recorded, thereby preserving the transient nature of the spoken word. Wilson's earlier artistic explorations took place entirely in monochrome. He was absorbed by questions relating to perception and painting. His last physical objects, 'Circle on the Floor' and 'Circle on the Wall', were created in early 1968. By making these works, Wilson realized that it was not necessary to produce an object to visualize a concept.

To highlight his importance to the program, the Grazer Kunstverein has devoted a permanent solo exhibition to the artist's work. The show presents different works throughout the years as well as a permanent display of a commissioned and acquired Discussion. This discussion on the pure awareness of The Absolute took place at the Grazer Kunstverein on the 4th of May between the artist, current staff and previous directors of the Grazer Kunstverein since 1986.

On display:
'Discussion (Grazer Kunstverein)', 2013
Donated by Stefan Stolitzka for the collection of the Grazer Kunstverein.


The Peacock
1 February 2013 –

The Grazer Kunstverein continues to examine its interior by introducing (new) furniture, design, applied and decorative arts that analyze their own functionality. 'The Peacock', as this non-stop group show is titled, is inspired by the notion of a Period Room, a room that defines a moment in time, as well as the animal itself, one that represents internal and external pride. A group of artists will be invited to contribute works to enhance the functioning space of Grazer Kunstverein with design pieces and conceptual interventions. (Parts of) these works will reappear and be juxtaposed alongside others in upcoming solo exhibitions and will therefore form the backbone and interior of the Kunstverein.

Each year The Peacock will have a specific narrator, who will provide a structural narrative to the works on display. Artist and writer Angie Keefer is invited to shape the storyline for 2014.

On display
6 June – 3 August 2014

Nina Beier
'Tragedy', 2011

A Persian rug situated at the entrance of the first gallery became a stage for a performance in which various dog owners visited the exhibition at unannounced times and asked their animals to 'play dead' on the rug. The result was an absurd, theatrical gesture in which, for a moment, the pet serves as both still life and 'gatekeeper' to the galleries. The carpet, however, also serves different functions throughout its years at the Grazer Kunstverein, therefore questioning its own value and presence.


Jason Dodge*
'the acrobats are sleeping', 2010–2011

Jason Dodge's work is born out of love for the simple econ­omy of visual and literal language. The artist's seemingly minimal sculptures and spatial interventions rest on an intense interest in the emotional potential for objects to transmit meaning. Unexpected combinations of apparently familiar objects, presented out of place and stripped of their function or purpose, create an elusive and poetic narrative sustained by a broad network of associations. Evocative of something unseen or some 'elsewhere', Jason Dodge's work explores surprising histo­ries and untold tales. The work the acrobats are sleeping is no different as it beautifully juxtaposes the image of sleeping with that of an acrobat. The pillows have been handmade and only slept on once by an acrobat. The placement in the gallery is done by the artist himself.


Mateo López*
'From the series 'Gabinete, Avenida Primavera Casa #2', 2012

Mateo López is interested in drawing as a tool that gives the first tangible form to ideas. From mind maps to architectural plans these drawings help to visualise concepts and trace thought processes. When extending his drawings into three-dimensional objects, the artist remains committed to the potential of an idea rather than its trans­formation into a product. The resulting objects are often strikingly lifelike but inert, free from the pressures of success and failure.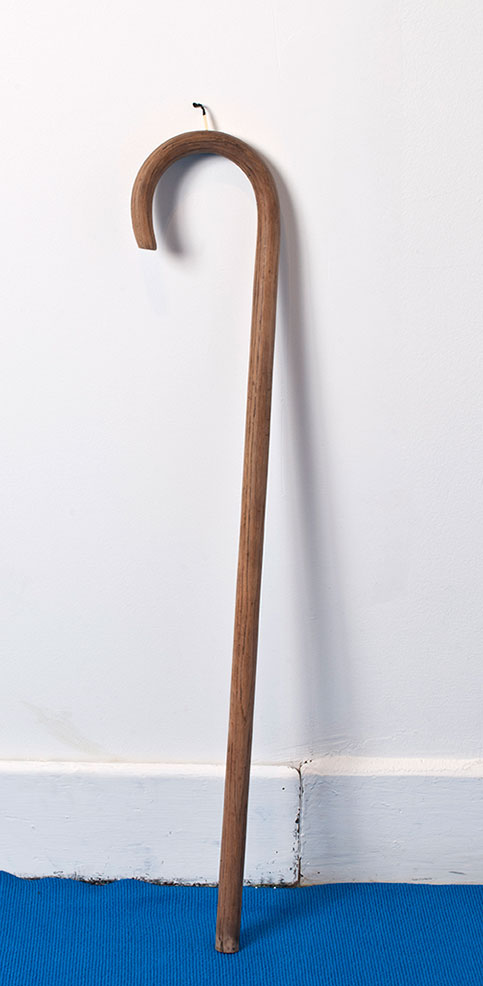 Mateo Lopez
From the series 'Gabinete, Avenida Primavera Casa #2', 2012
wooden cane, ink on cardboard, 87 x 16 x 3 cm
Courtesy of the artist and Galeria Casas Riegner, Bogota


Nicolás Paris*
'Portable Garden', 2009–2013
'Four Corners', 2012

Coming from an architectural background, Nicolás Paris often draws on pedagogical strategies to incorporate elements of collaboration, dialogue and exchange in his work. In order to develop events and places, which encourage the exchange of reflections, Paris's work is oriented to mediate between the construction of dialogue environments and the observer, the exhibition space and the institutions.

Paris' 'Portable Garden' consists of a green pencil, which has the words engraved in it. The pencil is used by the staff to mark the amount of the visitors coming to the Grazer Kunstverein during the exhibition.

Next to this, the Grazer Kunstverein presents 'Four Corners', which is a typical stool cut in four parts, each occupying different corners of the gallery.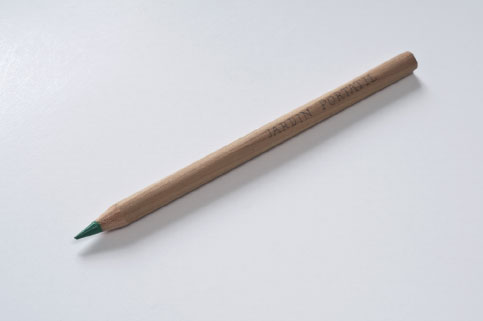 Nicolás Paris
'Portable Garden', 2009–2013
altered green crayon, 18 x 0,7 cm
Courtesy of the artist and Galeria Luisa Strina, Sao Paulo


Dexter Sinister
'Tinctures', 2010

Dexter Sinister is a designer-editor-publisher duo established in 2006 by Stuart Bailey and David Reinfurt. Their activities, which include a workshop and bookstore in New York, explore the possibilities of publishing in both printed and digital form – often in relation to art production. Many of their projects are site-specific and time-sensitive, including publications and events produced live in galleries over set periods of time. In 2011, they produced carpet tiles based on 'tinctures'.

Tinctures are the colors used to emblazon a Coat of Arms in heraldry. Specific designs often had to be communi­cated using black-and-white drawings alone. In the absence of true color representation, a coded system of line hatching was developed that could easily distinguish one tincture from another. Each tincture has a proper, corresponding heraldic name. The tiles produced by Dexter Sinister are spread throughout the galleries.


Will Stuart
'On the positioning of a replica of Michelangelo Pistoletto's Struttura per parlare in piedi. (Structure for talking while standing.) 1965–66, from the series 'Oggetti in meno' (Minus objects), reproduction', 2012

Positioned wherever negotiated, Will Stuart (Will Holder and Stuart Bailey) present a replica of Struttura per parlare in piedi, a work by Michelangelo Pistoletto (b. 1933, Italy) that belongs to his series of Minus Objects.

The work is be accompanied by a public notice investigating the original intentions behind the work, and how subsequent negotiations with the various parties involved reflect its ambiguous doubling as furniture (for the public to lean on) and metaphor (for the politics of conversation). The object becomes an ongoing source of friction during the consideration of space and function within discursive programming.

Michelangelo Pistoletto's work was exhibited at the Grazer Kunstverein in 1988.


Jennifer Tee*
'Violamine crystalline floorpiece', 2013

Jennifer Tee creates symbolic, synthetic, sculptural installations that the visitor can not only contemplate, but also sometimes enter or engage with ritually. Her work often balances seemingly contradictory factors: great sculptural sophistication with a transparency in production and an interest in evoking spiritual realms with active material experimentation. In recent years, Tee's often-voluminous installations reveal a special interest in being in an in-between state, or what she calls 'the soul in Limbo', in her performances. She researches intermediate forms of cultures and languages, and various forms of religion. In her area of research Tee constructs poetic dispositions between fact and fiction, between present and past. Her latest works hover between sculpture and stage, performance and choreography.

The Grazer Kunstverein presents one of Tee's recent floor pieces. Their color schemes form an abstract geometry that goes beyond formalism and hints at a certain expectation. Their appearance seems to anticipate an action, a kind of ceremony, ritual or meditation, which Tee activates through choreographed performances.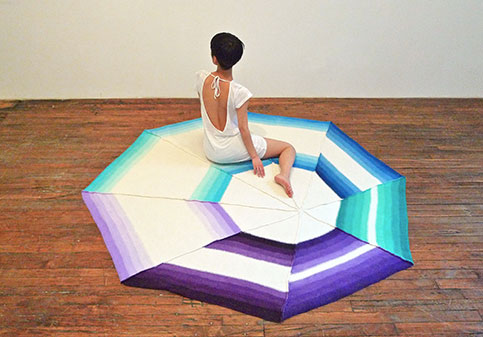 Jennifer Tee
'Violamine crystalline floorpiece', 2013
(1 of constellation of 4)
hand-dyed wool, Ø 210 cm
Courtesy of the artist and Galerie Fons Welters, Amsterdam


Barbara Visser
'Vereinvögel/ Societybirds', 2014

The premises of Grazer Kunstverein are quite literally transparent as the façade of the gallery space is completely covered with windows. Visitors and people passing by always peer inside to catch glimpses of the exhibitions or events that take place. Dutch artist, Barbara Visser, explores this public/private tension in a new semi-permanent commission covering most of the institution's façade. The work of Barbara Visser has been occupied with the uncertain relationship between registration and dramatization. Many of her works deal with the notions of original and copy, and raise the question of whether these copies are 'well behaved' and do justice to the original, or whether they are fraudulent signs that swallow up the original in a vortex of delusion. Formally, the work varies greatly, ranging from photography, film and video to printed matter, text and performance yet remaining grounded in recurrent themes such as authenticity and artificiality, perception and cultural coding, convention and exception, reproduction and documentation. By infiltrating existing systems in various ways, and reflecting on them, the artist challenges the viewer to reconsider ingrained perceptions.

*New additions