27 September – 23 November 2014

The Grazer Kunstverein's continuous investigation into notions of social abstraction is carried further in response to the new 'Leitmotiv' of the steirischer herbst 2014, which questions the notion of 'sharing'. One's solidarity always has limits when it comes to one's own well-being. What one reveals dependents on the context and is often disguised within an accepted form. The Grazer Kunstverein explores these 'accepted forms' through presenting conversations between various practitioners that each reveals a side that one is often unfamiliar with.


Ronald Jones
'1987–1992'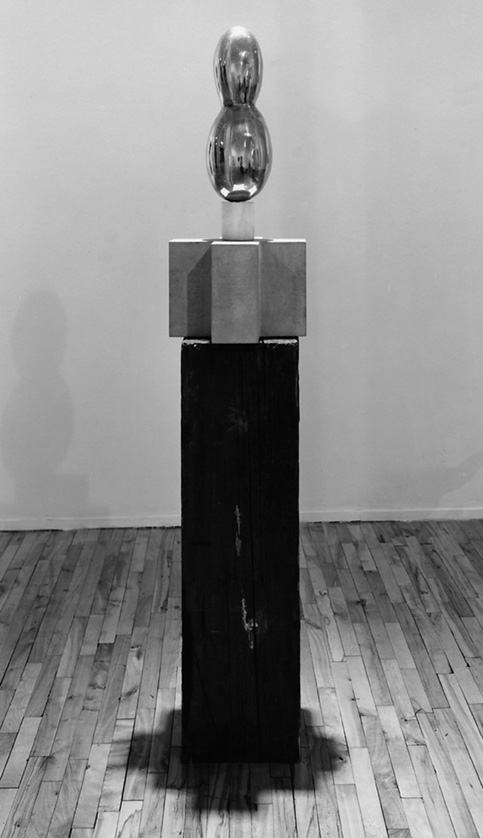 Ronald Jones
'Untitled (DNA fragment from human chromosome 13 carrying mutant Rb genes also known as Malignant Oncogenes which trigger rapid Cancer Tumorigenisis)', 1989
bronze, wood, marble, limestone
Courtesy the artist and Moderna Museet, Stockholm

The main exhibition is a solo presentation of the work of artist and critic Ronald Jones (b. 1952, United States) and is curated by artist Jason Dodge and Krist Gruijthuijsen, director of the Grazer Kunstverein.

Ronald Jones gained prominence in New York during the mid-1980s by using disparate formal and minimal languages to explore history as a medium. Through juxtapositions of historical events, innovations, discoveries, violence and fear, he explores the complex interrelation of events as they define our perception of ourselves and the world often through connecting seemingly unrelated occurrences. His materials include Steven Biko's interrogation room, the first artificial heart, collapse boards from a prison gallows, and parts of the Pan Am flight 103, which was destroyed by a terrorist attack over Lockerbie in Scotland. Jones' works provoke the perception of minimalism and design by introducing didactic methodologies to undermine our understanding of autonomy.

An example of Jones' unique relationship between content and form are his sculptures from 1988 that appropriate Brancusi's sleek and elegant aesthetic, displaying sublime beauty in the form of amorphic bronze shapes poised on wooden pedestals. The historic reference is self-consciously mobilized in order to rupture high modernist legacy and any lingering effects. Jones' forms turn out to be magnified cells related to cancer and the AIDS virus, making us hauntingly aware of the body by turning the sensual perceiver into a voyeur of death.

The reconsideration and repositioning of the political, social and economical value of 'the object' has become rather topical in recent contemporary art production and therefore revisiting some of Jones' pioneer work is necessary to continue this debate.

This unique exhibition is Jones' first since he withdrew as an artist by the mid-90's and brings together a selection of works from the Lehmann Collection, Martin Kippenberger Collection and the Artelier Collection in Graz.

The exhibition is accompanied by a publication edited by Jason Dodge, which reflects on most of Jones' works in a personal and unusual manner. The publication is co-published and distributed by Motto Distribution.


The Members Library* presents

Elio Montanari
'Quis Erudiet Without Documenta'

Curated by November Paynter, Associate Director of Research and Programs, SALT, Istanbul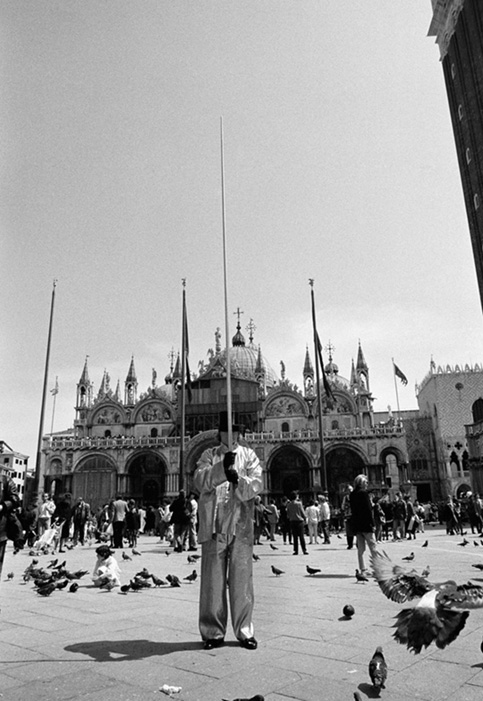 Elio Montanari
'Untitled. James Lee Byars, Venezia 1986'
Courtesy the artist

Following the exhibition Elio Montanari: One, No One and One Hundred Thousand at SALT Galata in Istanbul, the Grazer Kunstverein presents a selection of works by the Italian Architect and photographer Elio Montanari (b. 1944, Ravenna).

Elio Montanari independently photographed hundreds of artists producing, installing and rehearsing their works for major art events and exhibitions around the world from the early 1980s up until 2005. His exhaustive personal archive, housed in Fener in Istanbul comprises over 500,000 negatives and diapositives, which capture intimate moments shared with artists forming their work while supported by assistants, curators and peers.

A majority of Montanari's negatives have remained untouched for almost thirty years. His work offers an opportunity to assess the photographer – artist – curator relationships of a former era and how these adjusted over time; the physical energy and long commitment devoted to creative production and how these too have changed as new technologies take hold; and the role and canonical value of a document to satisfy the need for certitude.

Montanari's first major solo exhibition One, No One and One Hundred Thousand at SALT Galata included sequences of photographs that exposed the concentration and passion of individual artists as they work towards one piece or an entire exhibition. Practitioners such as Matthew Barney, Pier Paolo Calzolari, Catherine David, Alanna Heiss, Janis Kounellis, Marisa Merz, Claes Oldenburg and Emilio Vedova are portrayed in an unusual manner, therefore revealing a compelling new side from within the context of art production.

The exhibition is accompanied by a publication, which presents a selection of photographs by Montanari as well as essays by November Paynter and Catherine David. The publication is co-published by SALT, Grazer Kunstverein and Mousse Publishing.

*The Members Library is constructed and designed by the artist Céline Condorelli in collaboration with Harry Thaler as a permanent work entitled 'Things That Go Without Saying'. The structure built for The Members Library is part of a series entitled 'Additionals'. These different prop-like objects and quasi-functional structures operate at a scale between furniture and architecture.


On display continuously

Ian Wilson
1 February 2013 –

Ian Wilson (b. 1940, South Africa) is an artist whose work bears a powerful resemblance to the Kunstverein's own mission: to explore the relationship between the viewed – or discussed – and the viewer, and the urgency involved in these interactions.

Wilson has been exploring spoken language as an art form since 1968. He has described his own work as 'oral communication' and later as 'discussion'. At Wilson's own request, his work is neither filmed nor recorded, thereby preserving the transient nature of the spoken word. Wilson's earlier artistic explorations took place entirely in monochrome. He was absorbed by questions relating to perception and painting. His last physical objects, 'Circle on the Floor' and 'Circle on the Wall', were created in early 1968. By making these works, Wilson realized that it was not necessary to produce an object to visualize a concept.

To highlight his importance to the program, the Grazer Kunstverein has devoted a permanent solo exhibition to the artist's work. The show presents different works throughout the years as well as a permanent display of a commissioned and acquired Discussion. This discussion on the pure awareness of The Absolute took place at the Grazer Kunstverein on the 4th of May between the artist, current staff and previous directors of the Grazer Kunstverein since 1986.

On display:
'Discussion (Grazer Kunstverein)', 2013
Donated by Stefan Stolitzka for the collection of the Grazer Kunstverein


The Peacock
1 February 2013 –

The Grazer Kunstverein continues to examine its interior by introducing (new) furniture, design, applied and decorative arts that analyze their own functionality. 'The Peacock', as this non-stop group show is titled, is inspired by the notion of a Period Room, a room that defines a moment in time, as well as the animal itself, one that represents internal and external pride. A group of artists will be invited to contribute works to enhance the functioning space of Grazer Kunstverein with design pieces and conceptual interventions. (Parts of) these works will reappear and be juxtaposed alongside others in upcoming solo exhibitions and will therefore form the backbone and interior of the Kunstverein.

Each year The Peacock will have a specific narrator, who will provide a structural narrative to the works on display. Artist and writer Angie Keefer is invited to shape the storyline for 2014.

On display
27 September – 23 November 2014

Nina Beier
'Tragedy', 2011

A Persian rug that was situated at the entrance of the first gallery became a stage for a performance in which various dog owners visited the exhibition at unannounced times and asked their animals to 'play dead' on the rug. The result was an absurd, theatrical gesture in which, for a moment, the pet serves as both still life and 'gatekeeper' to the galleries. The carpet, however, has ever since served different functions throughout its years at the Grazer Kunstverein, therefore questioning its own value and presence.

Courtesy of the artist and Laura Bartlett Gallery, London


Jason Dodge
'the acrobats are sleeping'

Jason Dodge's work is born out of love for the simple economy of visual and literal language. The artist's seemingly minimal sculptures and spatial interventions rest on an intense interest in the emotional potential for objects to transmit meaning. Unexpected combinations of apparently familiar objects, presented out of place and stripped of their function or purpose, create an elusive and poetic narrative sustained by a broad network of associations. Evocative of something unseen or some 'elsewhere', Jason Dodge's work explores surprising histories and untold tales. The work the acrobats are sleeping is no different as it beautifully juxtaposes the image of sleeping with that of an acrobat. The pillows have been handmade and only slept on once by an acrobat. The placement in the gallery is done by the artist himself.

On loan from the William and Ruth True Collection, Seattle, US


Felix Gonzalez-Torres*
"Untitled" (Chemo), 1991

Born in Cuba, American artist Gonzalez-Torres (1957–1996) settled in New York in the late 1970s. He participated in the art collective Group Material in the 1980s, was an engaged social activist, and in a relatively short time developed a profoundly influential body of work that can be seen in a critical relationship to conceptual art and minimalism, mixing political critique, emotional affect, and deep formal concerns in a wide range of media, including drawings, sculpture, and public billboards, often using ordinary objects as a starting point-clocks, mirrors, or light fixtures. A manifestation of "Untitled" (Chemo) consists of strands of white, transparent and metallic beads displayed as a passage between two spaces therefore creating a feeling of transcendence. The beads might suggest festive associations and might also be understood as admonish illness and disease. As with so many of Gonzalez-Torres's artworks, it was conceptually important for the artist that the meaning of the work remains as open as possible and that varying associations are allowed to develop around "Untitled" (Chemo) over time.

On loan from Glenstone

©The Felix Gonzalez-Torres Foundation
Courtesy of Andrea Rosen Gallery, New York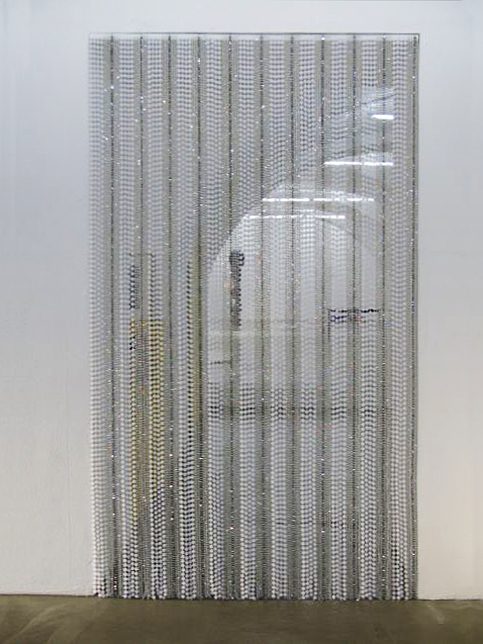 Felix Gonzalez-Torres
"Untitled" (Chemo), 1991
Strands of beads and hanging device
Dimensions vary with installation
©The Felix Gonzalez-Torres Foundation, Courtesy Andrea Rosen Gallery, New York


Nicolás Paris
'Portable Garden', 2009–2013

Coming from an architectural background, Nicolás Paris often draws on pedagogical strategies to incorporate elements of collaboration, dialogue and exchange in his work. In order to develop events and places, which encourage the exchange of reflections, Paris's work is oriented to create dialogue environments for the observer, the exhibition space and the institutions.

Paris's 'Portable Garden' consists of a green pencil, which has these words engraved in it. The pencil is used by the staff to mark the amount of the visitors coming to the Grazer Kunstverein in the period of the exhibition.

Courtesy of the artist and Galeria Luisa Strina, São Paulo


Daniel Santiago*
'twins or perfect lovers', 2009–2011

Daniel Santiago's (b. 1985, Colombia) practice poetically investigates his direct surroundings by often introducing fictional narratives that question his own identity. When Santiago became a farther of twins, he started to encounter situations (either domestic or in public space) that included paired objects. Strongly inspired by Felix Gonzalez-Torres' "Untitled" (Perfect Lovers), which consists of two identical clocks placed next to each other, the artist started photographing these situations, which later on formed a series of artist books. At the Grazer Kunstverein, one of the books is displayed in the office area, right above two identical chairs. During each conversation held on these chairs, a new page from the book will be chosen and displayed.

Courtesy of the artist


Will Stuart
'On the positioning of a replica of Michelangelo Pistoletto's Struttura per parlare in piedi. (Structure for talking while standing) 1965–66, from the series Oggetti in meno (Minus objects), reproduction', 2012

Positioned wherever negotiated, Will Stuart (Will Holder and Stuart Bailey) present a replica of Struttura per parlare in piedi, a work by Michelangelo Pistoletto (b. 1933, Italy) that belongs to his series of Minus Objects.

The work will be accompanied by a public notice investigating the original intentions behind the work, and how subsequent negotiations with the various parties involved reflect its ambiguous doubling as furniture (for the public to lean on) and metaphor (for the politics of conversation). The object will become an ongoing source of friction during the consideration of space and function within discursive programming.

Michelangelo Pistoletto's work was exhibited at the Grazer Kunstverein in 1988.

Courtesy of the artists


Barbara Visser
'Vereinvögel/ Societybirds', 2014

The premises of Grazer Kunstverein are quite literally transparent as the façade of the gallery space is completely covered with windows. Visitors and people passing by always peer inside to catch glimpses of the exhibitions or events that take place. Dutch artist, Barbara Visser, explores this public/private tension in a new semi-permanent commission covering most of the institution's façade. The work of Barbara Visser has been occupied with the uncertain relationship between registration and dramatization. Many of her works deal with the notions of original and copy, and raise the question of whether these copies are 'well behaved' and do justice to the original, or whether they are fraudulent signs that swallow up the original in a vortex of delusion. Formally, the work varies greatly, ranging from photography, film and video to printed matter, text and performance yet remaining grounded in recurrent themes such as authenticity and artificiality, perception and cultural coding, convention and exception, reproduction and documentation. By infiltrating existing systems in various ways, and reflecting on them, the artist challenges the viewer to reconsider ingrained perceptions.

Courtesy of the artist and Grazer Kunstverein

*New additions


The exhibition of Ronald Jones is generously supported by IASPIS, Sweden and Rachel and Jean-Pierre Lehmann. The shows of Ronald Jones and Elio Montanari are co-produced with steirischer herbst 2014.