Grazer Kunstverein moves to an abandoned lift shaft
Fiston Mwanza Mujila with Patrick Dunst and Grilli Pollheimer AKA Bender Schulz
Meeting point at Marktannerweg 11b
Station Elementary school Gösting, Bus no. 40
7.8.2020, 7pm
(Gösting)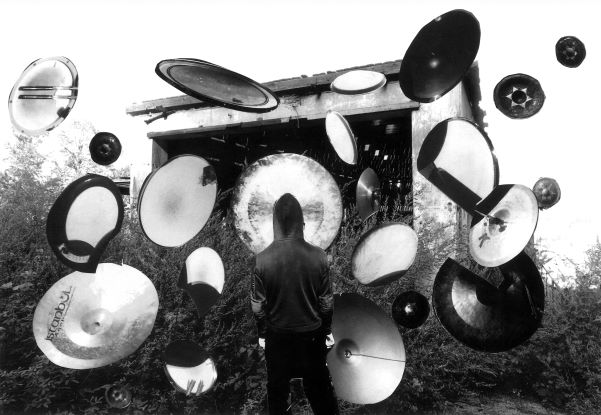 What is the ideal city? In a long poem addressing this question Mwanza Mujila tries to describe the city of his dreams or his ideal city. For him this inner place could be in Graz or Prague, Lisbon or Kinshasa, Johannesburg or Tokyo. With a plurality of architectures: Western, African, Japanese and Peruvian ... with new clothes, new music, new social relations and backdrops ... this performance is a reflection on the ideal, utopian city.
Mwanza Mujila will perform the text together with two musicians: Patrick Dunst on saxophone and Grilli Pollheimer on percussion. The trio will try to "occupy" the space of the abandoned lift shaft in Gösting, to create a connection between themselves, their bodies, their ideas, the sounds they produce and the space they inhabit, in an attempt to invent, reinvent or reinterpret it, with the poetry, music, choreography and movement.
Fiston Mwanza Mujila, born in 1981 in Lubumbashi and living in Graz, is a French language Congolese writer. In 2009 he received an award for a literature contribution on the occasion of the Francophone Games in Lebanon. His debut novel Tram 83 was on the longlist of the Man Booker International Prize in 2015 and received the Etisalat Prize for Literature as well as the International Literature Prize of the House of Cultures of the World in 2017. In 2018 it was adapted for the stage and premiered at Schauspielhaus Graz as part of steirischer herbst festival 2018. Poetry collections such as Le Fleuve dans le Ventre / Der Fluß im Bauch have also been presented in a performance-oriented setting, such as at Grazer Kunstverein as part of the Summer Season programme in 2017. Since 2009 Mwanza Mujila has lived in Graz and teaches African literature at the Karl-Franzens- University of Graz.
Patrick Dunst , MA MMus, born in Graz in 1983. Studied saxophone jazz at the University of Music and Performing Arts, Graz, with Karlheinz Miklin, Don Mensa . Master of Arts, as well as additional studies at the University of Music and Performing Arts, Vienna, with Wolfgang Puschnig. From 2004 also studied classical South Indian singing with Dr. KS Subramanian and Usha Narasimhan at the "Chennai Institute for Music of the World", India. In September 2009 he completed a master's degree in music ethnology at Goldsmiths College, University of London.Patrick Dunst lives as a freelance artist and teacher in Vienna and Graz. Since 2018 he holds a position as a lecturer for Jazz Saxophone IME/ ME at the University for Performance Arts Graz.

Grilli Pollheimer was born in the upper side of Austria. He grew up in an musical atmosphere based on jazz, traditional and classical styles. Later he studied classical percussion in Graz at the local university. During his studies he began playing contamporary music with some established ensembles like Studio Percussion Graz, Ensemble Reconsil Vienna or Schallfeld Ensemble and played at renowned Austrian and European music festivals. He deepened his interests for eastern music on trips to Iran, Israel and India. Several tours took him to festivals to India, Israel, South Korea, Serbia, France, Switzerland, Italy, Bulgaria, Spain, Scotland and many more. He has been doing collaborations with famous musicians from very different musical genres like Billy Cobham, Wolfgang Muthspiel, Christian Muthspiel, Ney Rosauro, N. J. Zivkovic, Andrés Orozco-Estrada, Opus, Beat Furrer, Ernst Kovacic, Erwin Ortner, Karlheinz Essl, Bobby Previte, Wolfgang Puschnig, Alexei Lubimov, Mamadou Diabate, Sofia Gubaidulina, John Hollenbeck, Chet Doboe & Hip Pickles, Reconsil Wien, Belgrade Philharmonic Orchestra,… One of the latest ensembles from Grilli Pollheimer is a collaboration with the Congolese writer Fiston Mwanza Mujila and the Austrian saxophone player and composer Patrick Dunst - which is called "Bender Schulz". In this band Grilli Pollheimer wants to combine traditional instrumental sounds with the possibilities of electronic sound design.