12 December 2015 – 21 February 2016

Astoria

Featuring Bob Nickas, Amy O'Neill, Arthur Ou and Adam Putnam
Organized by Trisha Donnelly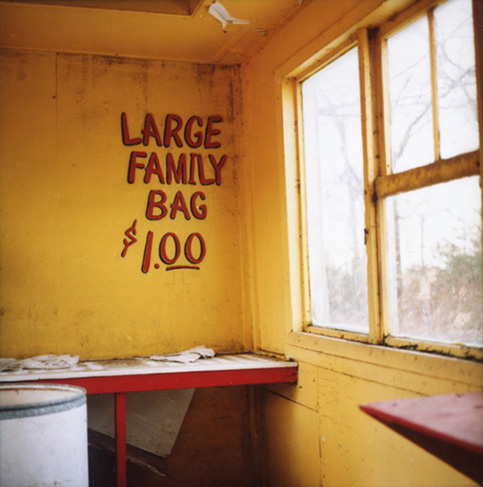 Amy O'Neill
'Large Family Bag', 2007.
Photo by Jason Fulford. Courtesy the artist.

By invitation of the Grazer Kunstverein, artist Trisha Donnelly has organized an exhibition of works by Adam Putnam, Arthur Ou, Amy O'Neill and Bob Nickas. This exhibition is to underline these artists and writers significance within current and future thinking on film, video and the photographic.

To say the least.


The Members Library* presents

Joseph Grigely
The Gregory Battcock Archive, 2009–2015

Gregory Battcock (1937–1980, US) was a New York–based artist who gave up his practice as a painter to become an art critic; he wrote on Minimalism, Conceptual art, video art, and performance, and generally championed artists pushing the boundaries and definitions of contemporary art. In 1992, Joseph Grigely was exploring the recently abandoned facilities of a storage company in the same building as his studio when he found Battcock's archive of manuscripts, photographs, and correspondence strewn throughout the space. After making copies of some of the material, he donated a bulk of the collection to the Archives of American Art. Grigely has researched and worked with the archive in various ways over the years. A publication entitled Oceans of Love: The Uncontainable Gregory Battcock, is the first book to present a selection of Gregory Battcock's prefaces and essays (from Minimalism, Idea Art, Why Art?, and other books), as well as columns published in underground newspapers in the 1970s. The publication is co-published with Verlag Walther König, Printed Matter, New York and Kunstverein in Hamburg. The exhibition is co-produced with Kunstverein in Hamburg.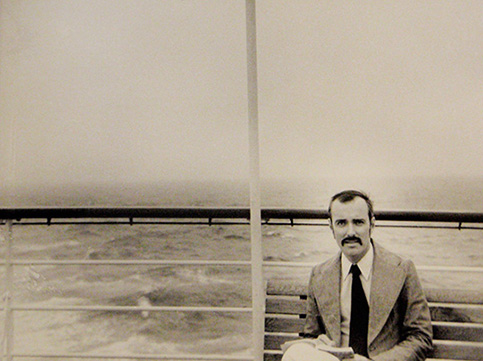 Gregory Battcock en route to Leningrad on the Mikhail Lermontov, 1973.
Unknown photographer. The Gregory Battcock Archive.

*The Members Library is constructed and designed by the artist Céline Condorelli (b. 1974, France) in collaboration with Harry Thaler as a permanent work entitled Things That Go Without Saying. The structure built for The Members Library is part of a series entitled Additionals. These different prop-like objects and quasi-functional structures operate at a scale between furniture and architecture.


Both exhibitions are generously supported by the Embassy of the United States of America.


On display continuously

Ian Wilson
1 February 2013 –

Ian Wilson (b. 1940, South Africa) is an artist whose work bears a powerful resemblance to the Kunstverein's own mission: to explore the relationship between the viewed – or discussed – and the viewer, and the urgency involved in these interactions.

Wilson has been exploring spoken language as an art form since 1968. He has described his own work as "oral communication" and later as "discussion." At Wilson's own request, his work is neither filmed nor recorded, thereby preserving the transient nature of the spoken word. Wilson's earlier artistic explorations took place entirely in monochrome. He was absorbed by questions relating to perception and painting. The works were indebted to the innovations of Minimal Art in the late 1950s and early 1960s with its distillation of painting to nonrepresentational self-reflectivity and stripping of sculpture to the bare bones of industrially fabricated geometric form without determinable metaphoric content.

Wilson's last physical objects, Circle on the Floor and Circle on the Wall, were created in early 1968. By making these works, Wilson realized that it was not necessary to produce an object to visualize a concept.

To highlight his importance to the program, the Grazer Kunstverein has devoted a permanent solo exhibition to Wilson's work. The show presents different works throughout the years as well as a permanent display of a commissioned and acquired Discussion. This discussion on the pure awareness of The Absolute took place at the Grazer Kunstverein on the 4th of May 2013 between the artist, current staff, and previous directors of the Grazer Kunstverein since 1986.

On display:
Discussion (Grazer Kunstverein), 2013
Donated by Stefan Stolitzka for the collection of the Grazer Kunstverein


The Peacock
1 February 2013 –

The Grazer Kunstverein continues to examine its interior by introducing (new) furniture, design, and applied and decorative arts that analyze their own functionality. The Peacock, as this non-stop group show is titled, is inspired by the notion of a Period Room, a room that defines a moment in time, as well as the animal itself, one that represents internal and external pride. A group of artists will be invited to contribute works to enhance the functioning space of Grazer Kunstverein with design pieces and conceptual interventions. (Parts of) these works will reappear and be juxtaposed alongside others in upcoming solo exhibitions and will therefore form the backbone and interior of the Kunstverein.


On display
12 December 2015 – 21 February 2016

Eloísa Ejarque*
Drinking-Objects or Portable Monuments, 2015
Drinking glasses, sizes variable.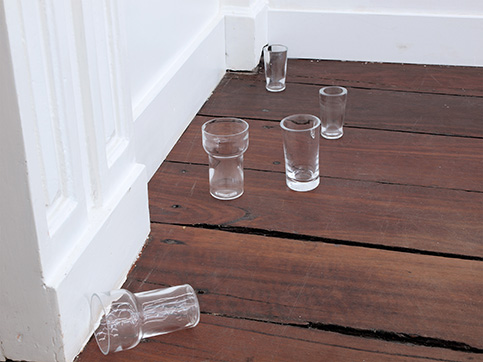 Eloísa Ejarque
'Drinking-Objects or Portable Monuments', 2015
Courtesy the artist

Eloísa Ejarque (b. 1990, Lisbon) her work derives from observations on monumentality and public structures, their ability to convey narratives for territorial dissemination while circumscribing a social and geographical identity. Fountains and spouts, serving the municipality of Lisbon, are being deactivated and inept for water supplying systems. Drinking-Objects or Portable Monuments is a project that uses these inapt commodity structures as profiles for custom glasses. This specific-use-objects each correspond to a supplying terminal where they can not be used. Drinking-Objects or Portable Monuments are also props for a performance of hospitality where all guests are invited to select a drinking glass, in a gesture to access the particular narratives of the sculptural group. Reproduction amount and morphologic qualities follow the logics of commission, social and territorial management of the structures partially represented in the glasses. After usage the drinking-vessels should be left in the room, wherever randomly placed by the guests, creating an accidental mapping – a display to be conserved until the end of the exhibition period.

Courtesy of the artist

*New addition


Josh Faught
Dale, Tony, Bob, and Henry, 2015
patinated cast bronze
38 x 25 x 2,5 cm

For the entrance of the Grazer Kunstverein, Josh Faught (b. 1979, US) developed a bronze plaque, which displays the names Dale, Tony, Boy, and Henry. The work began as a question. What does it mean to summon a common American male's first name? How might this simple form of summoning act as a way to render someone or something visible and how does this work exist as a corporeal surrogate? "Dale, Tony, Boy, and Henry," which co-exists with an entire series of "named" work, extended from the artist's interest in queer archival material. Within these archives, it's easy to find men's names appearing side by side, at once as a way to conjur desire in the form of "trick" lists, as a memorial in the form of the NAMES project, or as a means of support in the unique ways that gay men forge intimacy and connection with each other.

Courtesy of the artist, Grazer Kunstverein, and Gallery Lisa Cooley, New York


Nicolás Paris
Portable Garden, 2009–2013
altered green crayon
18 x 0,7 cm

Coming from an architectural background, Nicolás Paris (b. 1977, Colombia) often draws on pedagogical strategies to incorporate elements of collaboration, dialogue, and exchange in his work. In order to develop events and places, which encourage the exchange of reflections, Paris' work is oriented to create dialogue environments for the observer, the exhibition space, and the institutions.

Paris' Portable Garden consists of a green pencil, with the eponymous words engraved in it. The pencil is used by the staff to mark the number of visitors coming to the Grazer Kunstverein during the period of the exhibition.

Courtesy of the artist and Galeria Luisa Strina, Sao Paulo.


Will Stuart
On the positioning of a replica of Michelangelo Pistoletto's Struttura per parlare in piedi (Structure for talking while standing) 1965–66, from the series Oggetti in meno (Minus objects) reproduction, 2012
stainless steel
120 x 200 x 200 cm

Positioned wherever negotiated, Will Stuart (Will Holder and Stuart Bailey) present a replica of Struttura per parlare in piedi, a work by Michelangelo Pistoletto (b. 1933, Italy) that belongs to his series of Minus Objects.

The work is accompanied by a public notice investigating the original intentions behind the work, and how subsequent negotiations with the various parties involved reflect its ambiguous doubling as furniture (for the public to lean on) and metaphor (for the politics of conversation). The object is an ongoing source of friction during the consideration of space and function within discursive programming.

An exhibition of Michelangelo Pistoletto's work was organized at the Grazer Kunstverein in 1988.

Courtesy of the artists


Robert Wilhite
Small Black Chair, 1984

Robert Wilhite's (b. 1946, United States) practice is characterized by an ongoing battle between the serendipitous and the calculated, the conceptual and the tangible. His work moves freely between mediums and disciplines, from sculpture and performance to flatware design. In the late 1970s, Wilhite collaborated on four plays with French artist Guy de Cointet, producing props and a set design for the performance. Small Black Chair is a reproduction of one of these props and will continuously be reproduced when needed within the Grazer Kunstverein's program.