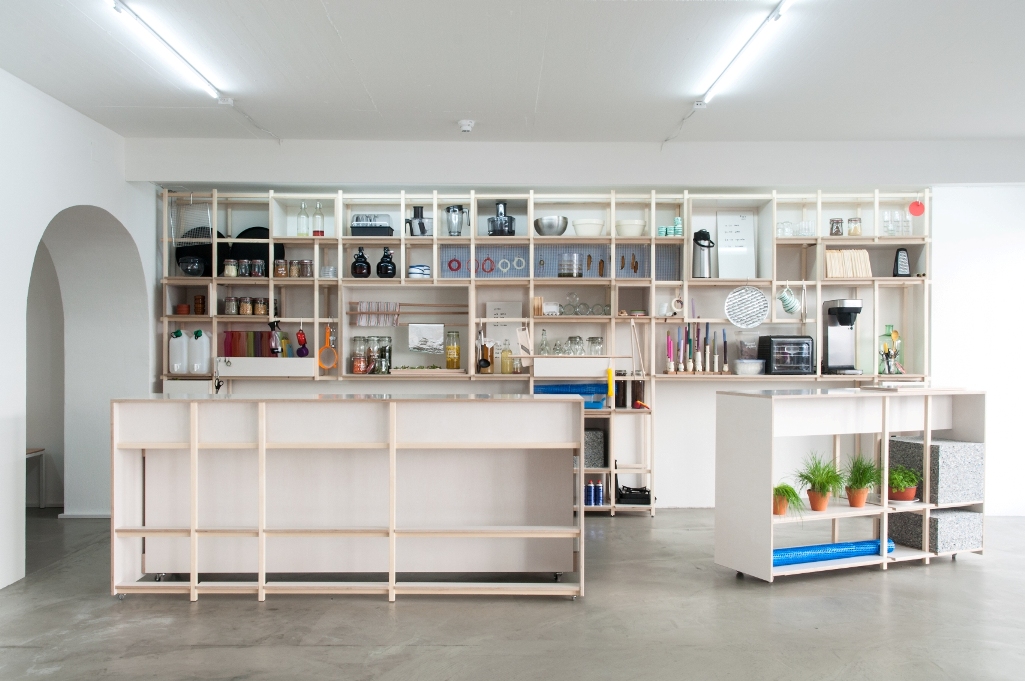 Image: Fink's by Fiona Hallinan, Christine Winkler
Courtesy Grazer Kunstverein

Fink's acts as a threshold fot the Grazer Kunstverein, providing a reception space for hospitality and events that relate to the exhibition programme.

Fink's is comprised of a shelving structure, bar and seating system create by the Graz-based achitecture studios Brauchst and Studio Magic. They are designed and arranged to display ongoing projects, and invite visitors to linger, taste, smell, and ask questions about what they see. Each season, drinks and snacks are produced for openings, meetings and other events, or in collaboration with other artists as part of their work. Through hospitality, Fink's creates a site for alternative research and exploration, and a living archive of activities, suggesting and facilitating knowledge production in a multitude of forms.

In 2017 the focus of Fink's was on research into edible plants and herb lore, through the collection and exchange of ingredients. Artist Fiona Hallinan produced a powder for each season, derived from herbs, fruit, vegetables and spices encountered in Graz and Styria, and through visiting artists. Ingredients and leftovers were collected over a period of cooking for events, openings and talks, conversation and workshops. These were processed through dehydration and grinding in Fink's kitchen studio, resulting in a powder, or dust representing each season. Visitors to the Grazer Kunstverein were invited to take home a sample of each season's powder. By way of example, Summer 2017's powder consisted of the following plants: gooseberry, iris, pigweed, marshmallow, baldmoney, bergamot, pimpinella, jostaberry, fennel, lady's mantle, yarrow, buckhorn, black mullein, parsnip, cauliflower mushroom, amber, ambrosia, horsetail grass and laurel.

Throughout 2018 Fink's hosted the Department of Ultimology. Ultimology is the study of that which is dead or dying, endangered or extinct. The first Department of Ultimology was established by Fiona Hallinan and Kate Strain in January 2016, at Trinity College Dublin. Ultimology became a conceptual backdrop or reference point for the development of the artistic programme of exhibitions throughout the year, thinking about recurring themes such as loss, disappearance, connections with historic figures, change, death, and endings as new beginnings. In September 2018, Fink's displayed a research project titled What Where. This project was commissioned in cooperation with steirischer herbst '18 Volksfronten. A working group was led by researchers Nina Höchtl and Julia Wieger, founders of the Secretariat for Ghosts, Archival Politics and Gapx, to understand and reflect upon ambient culture, questioning how it is constructed, consumed, advanced, practiced and preserved, and how in doing so, it can evade extinction, intentionally or not. The bar and seating system of Fink's acted as a hosting space where visitors could read, rest and engage with a questionnaire designed to interrogate personal relationships with specific facets of one's environment or culture. A special tea was produced, using dried gingko biloba leaves, a leaf that is said to stimulate memory and vivid dreaming.

From 2019 Fink's returns to its original function of serving as a hospitality station, with projects developed in close collaboration with visiting artists through a seasonal programme.