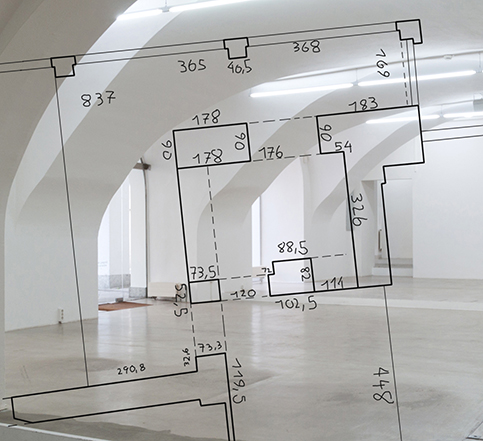 View of Grazer Kunstverein overlaid with floor plan, courtesy of Triple Candie

Throughout 2018 Triple Candie (Shelly Bancroft and Peter Nesbett) will produce a multi-layered investigation into the work and legacy of American conceptual artist Michael Asher, who often worked in the interstitial space between art and architecture. Asher created temporary interventions into architectural environments to foreground the various hidden systems and assumptions that make art viewing possible. For a project at Artists Space in New York in 1988, following a remodelling of the gallery that intentionally left the upper register of the walls open and free of drywall, Asher restored the drywall. At the Kunsthalle Bern in 1992, he relocated all of the building's steam radiators to a central gallery, running their pipes back to their original valves to keep them operational. Because nearly all his projects were situational, they were not intended to be re-made. One of the questions at the heart of this project is therefore how to engage or experience, posthumously, an oeuvre as absent as Asher's.

Triple Candie's engagement with Grazer Kunstverein consists of several parts, including four speculative projects (institutional interventions) and a growing body of research. The four projects, to be realised sequentially throughout 2018, attempt to resurrect the lost experiential potentialities of Asher's work, drawing on his methodologies to create new interventions in a new context. Additionally, Triple Candie aims to critically examine, through an unorthodox approach and in the unique context of the Grazer Kunstverein, Michael Asher's legendary practice in relation to such looming questions as: In death, what next? With an artist like Michael Asher, whose site-specific work was destroyed when de-installed, how does one access and unravel his ideas after the fact? How might one communicate the vastness of their relevance to younger and future generations? Is it possible, through the speculative potential of arts practice, to reactivate expired gestures, in new or meaningful ways? Can Asher's important legacy be extended, without him?

The title proposed by Triple Candie for this project was originally If Michael Asher, curated by Triple Candie. It has been changed to Triple Candie: If Michael Asher at the request of the Grazer Kunstverein. Triple Candie asked that the original title be acknowledged here.

Triple Candie is a US-based, avant-garde curatorial production agency that collaborates with museums and contemporary art spaces on exhibitions about art but generally devoid of it. From 2001 to 2010, it had a gallery in Harlem. Since then, it has presented projects in Australia, Europe, and the United States at such venues as Chateau Shatto, Los Angeles; Deste Foundation, Athens; Gertrude Contemporary, Melbourne; Museum of Contemporary Art Detroit; Project Arts Centre, Dublin; and Utah Museum of Contemporary Art, Salt Lake City. Surveys of Triple Candie's work have appeared at FRAC Île-de-France/ Le Plateau, Paris (2012) and Addison Gallery of American Art, Andover, Massachusetts (2017).