Spring/Summer at Grazer Kunstverein

Tai Shani
Tragodía
13 March – 4 September 2020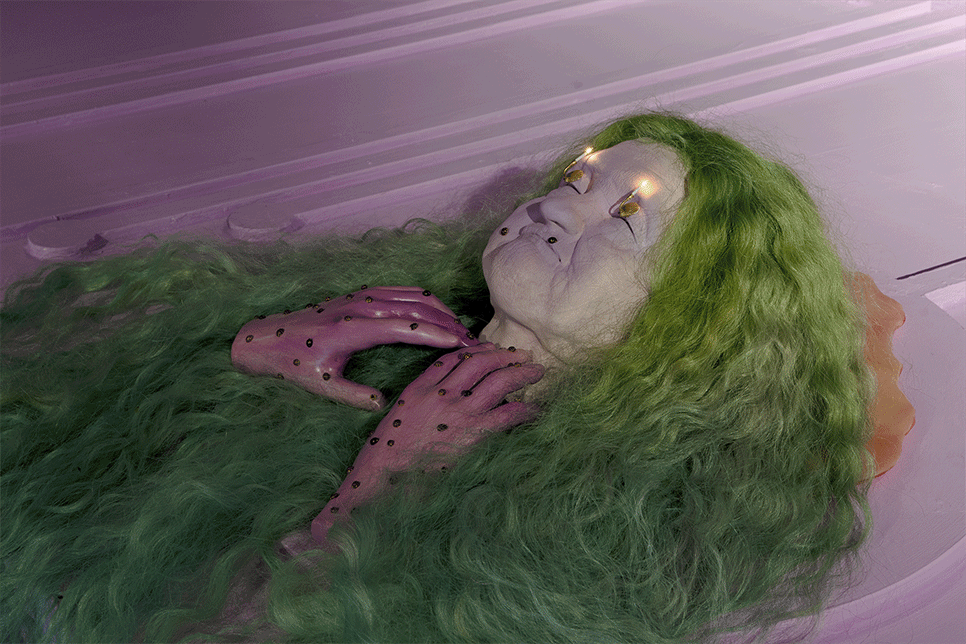 Tai Shani, Tragodía, Spring/Summer 2020 at Grazer Kunstverein. Photography by Christine Winkler.

Tai Shani works with sculpture, installation, performance, moving image, text, spoken word, and virtual reality in her multidisciplinary artistic practice. Using the forms of science-fiction, anthropology, feminist and queer theory, Shani blurs fact and fiction, re-imagining cultural archetypes and re-interpreting their narratives with eroticism, violence and fantasy. Her newly commissioned work Tragodía contemplates kinship, care, mortality and privacy, exploring how intimacy is a site for radical transformation. Shani has produced an epic virtual reality play, with sound design by Maxwell Sterling, voicing urgent personal and philosophical ideas. Shani uses the narrative device of virtual reality, combine with exquisite sculptural artefacts that are layered like props across a dream-like landscape. Shani explores the construction of subjectivity, family relationships, and the centrality of love and death in a post-patriarchal reality.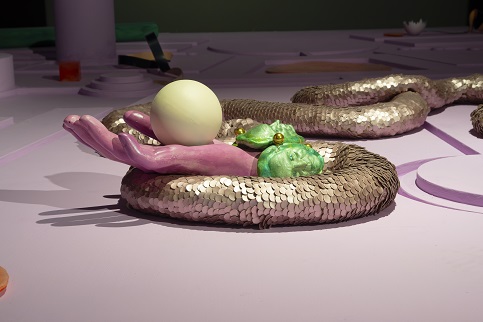 Tai Shani, detail from Tragodía, Spring/Summer 2020, Grazer Kunstverein. Photography by Christine Winkler

In Tragodía, death holds everything together. In the form of a virtual reality play that unfolds alongside an exquisite sculptural installation, Shani creates a speculative portal, lingering in the unknown space between life and death, where kinship, intimacy, love and the wholeness of being can be contemplated in vivid close-up.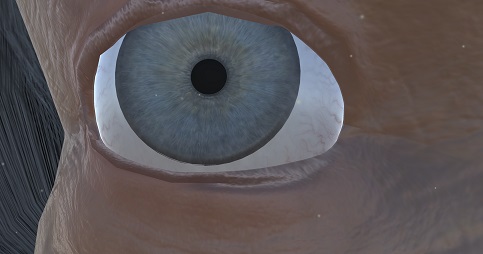 Tai Shani, detail from Tragodía, Spring/Summer 2020, Grazer Kunstverein. Photography by Christine Winkler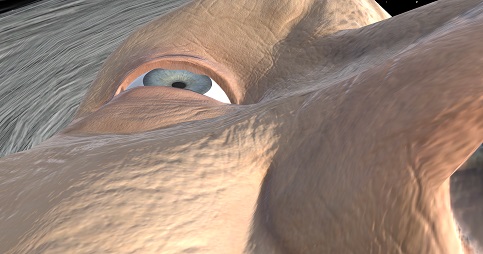 Tai Shani, detail from Tragodía, Spring/Summer 2020, Grazer Kunstverein. Photography by Christine Winkler

The play tells the story of the tragic death of an only-child, who is dying following a violent car crash. In passing she is leaving behind her close-knit kin: Grandmother, Aunt, Mother, and Oedipuss the Cat, all of whom are reeling from the violence of grief and love. Through the narrative device of virtual reality, we experience the play from the inner perspective of dying Ghost Child, floating in a dream realm somewhere between our own physical body, their post-human entity, and the metaphysical beyond.
Simultaneously, as breathing bodies in the material world, we are surrounded by a sacred lilac landscape of artefacts in the gallery; death masks, amulets, relics, talismans, bones, hair, and crystals lie strewn across a circuit board of connections. This ancient archaeological ruin becomes a burial site for the deceased child and her loved ones, striving to hold together in tangible concrete reality, all possible futures and all possible pasts.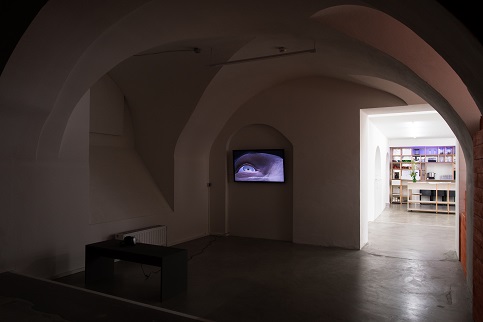 Tai Shani, detail from Tragodía, Spring/Summer 2020, Grazer Kunstverein. Photography by Christine Winkler

Shani is an artist, a world-maker, and a seer of alternate realities. Her vision of a post-patriarchal, feminist future makes space for new subjectivities, and shines light with urgency and hope in the direction of a possible tomorrow.

Tai Shani (born 1976) is an artist based in London. Inspired by historical characters and narratives, Shani creates dark utopian world, looking at femininity and thinking about what can be salvaged from the history of femininity. In 2019 she was one of four artists to be awarded the prestigious Turner Prize. Shani has presented her work extensively in the UK and abroad, recent exhibitions and commissions include Netwerk Aalst (2019), Fondazione Sandretto Re Rebaudengo (2019), Athens Biennial, (2018), Nottingham Contemporary (2018), Glasgow International (2018), Wysing Arts Centre (2017), Tensta Konsthall, Stockholm (2016), RADAR commission, Loughborough University (2016), Serpentine Galleries (2016), Tate Britain (2016), Schirn Kunsthalle, Frankfurt (2015), Southbank Centre, London (2014–15), Arnolfini, Bristol (2013), Matt's Gallery, London (2012), FRAC Nord-Pas de Calais and Loop Festival, Barcelona (2011), The Barbican, London (2011), ICA, London (2011). Shani's exhibition at Grazer Kunstverein marks the artist's first institutional show in Austria.

Tragodía credits: Soundtrack: Maxwell Sterling. Voice Actors: Ghost Child: Maya Lubinsky, Grandmother Eve, Mother, Aunt: Eva Eklöf, Oedipuss the Cat: Dasha Loyko. VR Production: partyTime.jpeg (Adam James Sinclair, Mikhail Polshaw). Facial Performances: Lotti V Closs.

Co-produced with Temple Bar Gallery + Studios, Dublin and Jindřich Chalupecký Society, Czech Republic.