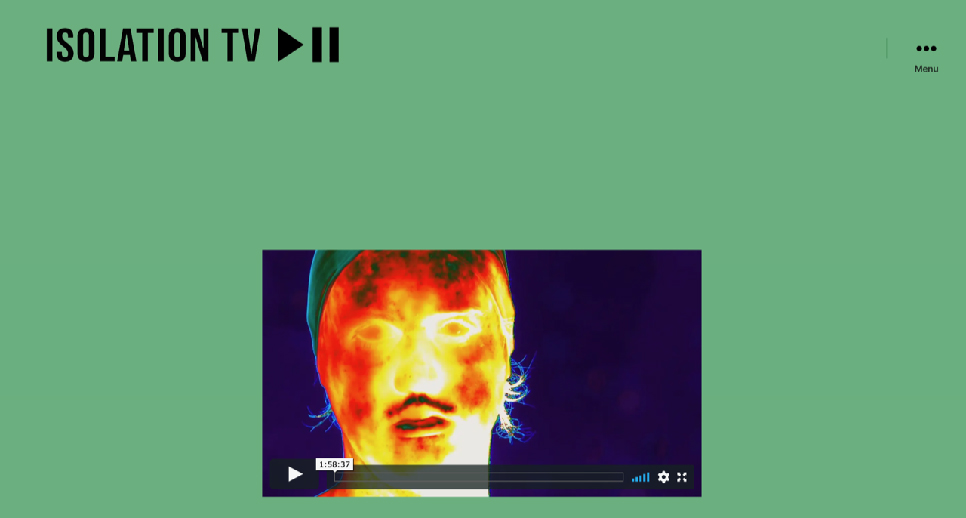 Conceived and produced by Vaari Claffey, Isolation TV is a platform for showing artists' work, an exhibition-making site and a collaborative para-institution.

Isolation TV begins as response to quarantine and social distancing, during the Covid19 pandemic and consequent closing of Museums and Galleries, forcing the suspension or cancellation of many exhibitions and trapping works of art in empty buildings, unseen. We are very grateful to the artists for letting us show you their work in this way, and to our collaborators and supporters for responding so quickly and imaginatively to the project.

Realized in partnership with the Salzburger Kunstverein, with curatorial collaboration from Séamus Kealy, Director. Forthcoming supporters and collaborators include Grazer Kunstverein and Golden Pixel.

Further information on the programme and artists is available here: https://www.isolationtv.org/about-isolationtv/

Vaari Claffey is an independent curator based in Dublin. She has initiated a number of curatorial platforms including Gracelands, Hazelwood Arts and Resistance is Fertile. Her practice involves working closely with artists to stage and produce immersive, experiential projects which aim to produce a particularly dynamic relationship with the audience. These projects range from low-key self-perfomed moments to very large-scale exhibitions and public art commissions. Recent projects include Gracelands at IMMA, 2014, Magnetism at Hazelwood 2015, People's Cinema, Salzburger Kunstverein 2016, Laugh a Defiance in the Hugh Lane and The Comedy Cellar 2016, Refuge in Fauxtopia in the Van Abbe Eindhoven 2018 and I Am The Beat at The Irish Museum of Modern art in 2020. In 2017 she was appointed Public Art Strategist for Southbank Melbourne the first commission for which will be constructed during 2020.