The Members Library consists of books recommended by members of the Grazer Kunstverein. These books (either bought or donated) have played an important part in the member's lives (by way of thinking). The Library hosts monthly evenings during which members are invited to present or organize something around the books they have selected. At present there are over 400 books in the collection, and counting.

In The Members Library 'the book' is viewed as an exhibition venue in itself, conveying the ideas and ambience of art presentation over spatial and temporal distance. Unique (and often forgotten historical) publications are exhibited along with publications to be seen as sculptures or performances. The Members Library is a concept inherited and continued from the previous artistic director Krist Gruijthuijsen.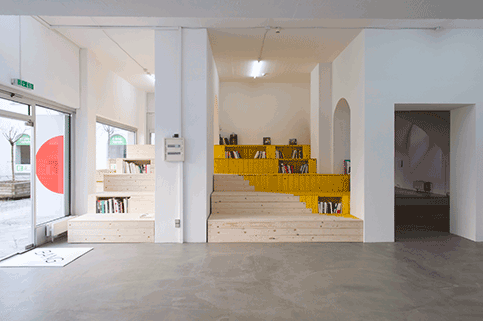 Image: Céline Condorelli

The library is constructed and designed by artist and architect Céline Condorelli in collaboration with Harry Thaler as a permanent artwork entitled Things That Go Without Saying.

Condorelli works with art and architecture, combining a number of approaches from developing structures for "supporting" (the work of others, forms of political imaginary, existing and fictional realities) to broader inquiries into forms of commonality and discursive sites. The resulting projects merge various exhibitions, politics, fiction, display, public space, sound, writing, and whatever else feels urgent at the time. The structure she had built for The Members Library is part of a series entitled Additionals. These different prop-like objects, quasi- functional structures, operate at a scale between furniture and architecture. Additionals simultaneously reference conceptual art, architectural propositions, and filmmaking through art direction and set design. The objects draw from Michelangelo Pistoletto's Oggetti in Meno (objects one can do without, usually translated as 'minus objects'). These were a disparate collection of pseudo-utilitarian objects developed in 1965–66. The title, Additionals, refers directly to Pistoletto's series and the process of exceeding, adding to or supplementing what is already present or available.

For upcoming dates please refer to the Calendar.