Grazer Kunstverein moves to a temporary cinema
Damir Očko
Harter Straße 153, 8054 Graz
8.7.2021, 8.30pm
(Straßgang)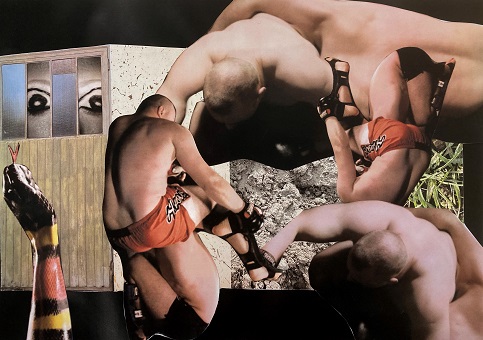 Damir Očko's film series Dicta explores language as a fundamental political fact. The title of the series is the plural of the Latin word Dictum, which describes an unquestionable, dogmatic truth, a statement of a political will that comes into effect by pronunciation. Both films deal with the idea that the utterance of a single word or whole sentences has the power to change a situation or state. Očko treats this idea in different contexts: while DICTA I (2017) displays the recital of a linguistic collage of a text by Bertold Brecht to address the ambiguous play of truth and lie, DICTA II (2018) explores the use of safe words in BDSM practices by juxtaposing the safe words with imagery of MMA fighters and small colorful balls. For our ongoing feasibility study Grazer Kunstverein is moving! we will move to a temporary cinema in Straßgang. In cooperation with Street Cinema Graz, Damir Očko's film DICTA II will be screened on the facade of a house. The film will receive an additional performative layer with the help of drag queen Miss Alexandra Desmond, which will pose questions on gender and language. Join us for this experimental event to find out how a Kunstverein can come alive on the walls of a building.
You can reach Harter Straße 153, 8054 Graz with the bus lines 31, 32 and 33 from Jakominiplatz.
DICTA I will be screened at the Grazer Kunstverein from 22.5.–
6.6.2021. More info
here
.
Damir Očko (born 1977) is a Croatian artist whose immersive works often question forms of language as a political gesture, exploring the poetic and political potential of the body and the violent undertones that build the social environment. He is a graduate from the Academy of Fine Arts in Zagreb. His works have been displayed in solo exhibitions at Museum of Contemporary Art Zagreb (2019), Jeu de Paume, Paris (2018), National Gallery in Prague (2018), Museum of contemporary Art Bordeaux (2018), Künstlerhaus, Halle für Kunst & Medien, Graz (2014), Palais de Tokyo, Paris (2012/2013), and Kunsthalle Düsseldorf (2011), among other places. He participated in numerous group exhibitions internationally, notably at MUDAM in Luxembourg, FRAC le Plateau, Württembergischer Kunstverein Stuttgart, Kunsthalle Vienna and Fondatione Louis Vuitton among others. Damir Očko represented Croatia at the 56th Venice Biennial with a solo exhibition Studies on Shivering / The Third Degree. His works are included in many public and private collections such as FRAC le Plateau, Fondatione Louis Vuitton, CNAP – Centre national des arts plastiques, Paris and MUDAM, Luxembourg among others.