Grazer Kunstverein moves to a multigenerational house
Bianca Baldi
Mehrgenerationenhaus Waltendorf, Schulgasse 22, 8010 Graz
11.8.2021, 7pm
(Waltendorf)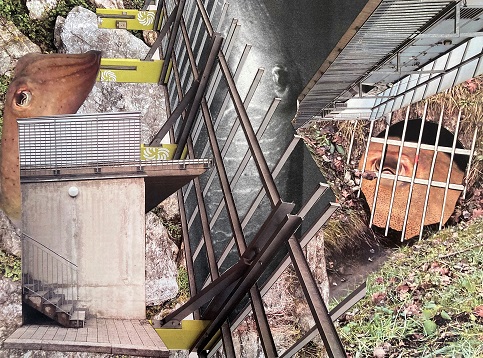 In August, the Grazer Kunstverein moves to a multigenerational house in Waltendorf to think about identity and the concept of passing together with Bianca Baldi. In sociology the term 'passing' refers to the phenomenon whereby an individual may be identified as belonging to an identity group or category other than their own. This may include racial identity, ethnicity, social class, gender, sexual orientation, religion, age and/or disability status. Bianca Baldi explores the concept of passing in her exhibition at the Grazer Kunstverein by thinking about a cuttlefish who uses the mutability of his skin pigment for the purpose of self-preservation. Bianca Baldi will introduce the topic with the help of texts and images and will present her newly published book Play-White.

Bianca Baldi (born 1985 in Johannesburg, South Africa) is based in Brussels. In her work she deals with the role of narrative as a means of knowledge production in both fictional and historical contexts. She is interested in the staging of identity and history and explores these themes in photography, film, writing and publishing, which she often combines in the exhibition format as installations. She obtained a Bachelor of Arts in 2007 from the Michaelis School of Fine Art in Cape Town, South Africa and completed her studies at the Städelschule in Frankfurt. Her work has been featured in large international exhibitions such as the 11th African Biennial of Photography (Bamako), the 11th Shanghai Biennale, the 8th Berlin Biennale of Contemporary Art and group exhibitions at Kunsthalle Bern, Extra City Kunsthal Antwerp, Kunstverein Braunschweig and Kunstverein Frankfurt. Recent solo exhibitions include Versipellis at Superdeals in Brussels (2018), Eyes in the Back of Your Head at Kunstverein Harburger Bahnhof (2017) and Pure Breaths at Swimming Pool in Sofia (2016).